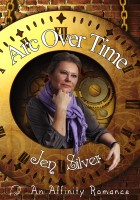 If you picked up Jen Silver's Starting Over after reading our review, then you'll be happy to know that the author already has a sequel out. It is titled Arc Over Time and gives you more of those characters that you loved in the first book. You can find it on Amazon and other book retailers right now.
Today, we've got an excerpt of this new release, but first here's a quick summary of this book:
Dr Kathryn Moss has job offers flowing in after her exciting archaeological discoveries at Starling Hill the previous year. Now she has choices to make that could jeopardise her relationship with Denise Sullivan, the fiery journalist, who has become her lover.

For Denise the choice seems obvious. She thinks they have moved beyond the casual sex stage to something more like a true relationship. However, she's not sure how to handle Kathryn's continuing infatuation with Ellie Winters.

Ellie's new career as a promising artist proves to be a catalyst for the simmering tensions in relations between her wife Robin, Kathryn, and Denise.

Will Denise persevere in her pursuit of the reluctant professor? Does Ellie have anything to fear from Kathryn's fascination with her art, or is there another motive behind the professor's obsessive interest?

This wonderful romantic continuation with the characters from Starting Over ties up loose ends. But the question is—does everyone have a happy ending? A must read.
If that summary has you interested in seeing what else is in store for Ellie and Denise, check out the except below for a bit of a teaser:
***
Denise, usually called Den, is a journalist who lives in London and is in a tenuous long distance relationship with Dr Kathryn Moss, archaeologist and university professor, who lives two hundred miles north of the capital and looks like planning to move even further north.
At the end of Chapter One, all seems to be well with these two. They've kissed and made up and had a weekend of great sex before Kathryn heads back up north. However, in Chapter Two, a week has passed and Den is feeling frustrated as she hasn't had so much as a text message from her lover and she isn't answering her phone calls.
So, it seems like a night out on the town might be a good idea…or not:
Excerpt from Chapter 2
Den looked around the sparsely furnished room. No books anywhere. What had she let herself in for? The idea of a casual shag with this woman had seemed like a good idea an hour ago when they were dancing at the club.
A few beers, music, flashing lights, it hadn't taken much to get in the mood, trying to recapture the carefree self who had revelled in nights like this. That was before she met Kathryn. And now, a Friday night, five days since Kathryn left on the early morning train, and she'd only had one short text from her. Den had tried to ring her but always got the answering service. She'd left messages, but nothing. It was as if the Saturday and Sunday before hadn't happened.
Now, in this stranger's house, hearing the toilet flush, the initial flash of desire left as quickly as it had appeared. She knew she couldn't do this; it would just be going through the motions. Not fair to Lindy or Lucy, or whatever her name was. Shit.
A vision emerged from the bathroom. The woman looked pretty hot, stripped down to her underwear. A lacy black bra barely containing full, rounded breasts, and skimpy panties that covered even less of her mound of luscious-looking dark curls. Den could feel her body responding. She licked her lips.
"Look, I'm sorry, Lindy. But I can't do this."
"It's Libby. What's the matter, babe? Don't you like what you see?" she arched her back provocatively.
"Sure. I like it a lot. But I have to go." Den backed towards the door.
"You're fucked up! You know that?" Libby's full bottom lip trembled.
"Yeah, I know." There was no graceful way to make her exit. "Maybe some other time. Bye."
She stumbled out onto the street, not even sure where she was. They'd been glued to each other's lips in the taxi ride from the club. Pulling out her phone, she clicked onto the map. Google would help her out.
Walking to the end of the road, she found her location before the phone app did. It wasn't far from Henry's. Christ, I hope I'm not going to run into Libby in one of my locals any time soon.
###
How do things work out for Den and Kathryn? Well, it's all in the book. Although this is a sequel to Jen's debut novel, Starting Over, it can be read as a stand-alone story.