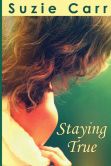 For the past few months, I have seen this book popping on and off the best sellers list for lesbian romance on Amazon. After reading the sample, I decided to give it a try.
Upon starting this book, I was relieved to find that the writing quality is better than most of the dreck being published in lesfic right now. It really pulled me into the story and made me want to know what happened next. I experienced the opposite of this when I was reading An Infatuation, where I was just reading it so that I could get it off of my Kindle.
I did find the way Ruby called people 'darling' like she was a Southern belle a little odd, especially since they were supposed to be in Rhode Island. But that may have just been a personal annoyance with the dialogue.
My favorite character, by far, was Ruby's Grandpa. The way the author wrote that character was just brilliant. I truly relished every scene that he was in. And the same goes for the character of Shawna, the transgendered friend. I don't personally know anyone who identifies as trans, but this character seemed so authentic.
With the way that this book was written, it was easy to root for the two women to get together. However, the author did make some odd choices in dialogue/descriptions with them. One that sticks out in my memory is when one of the ladies thinks that the other "touches her in an artistic way like an artist" or something similar to that. There were a few lines like that where I literally groaned out loud in the agony of such ridiculousness.
While I did not love this book, it was definitely a lot better than some of the other options out there in this genre. The writing was good overall and several of the characters really came off the page. I'd definitely read more by this author, but I'd hope that I wouldn't come across anymore of those groan-worthy lines.
This is one of the cheaper full length lesfic books that you can buy, both in print and Kindle format. Check it out on Amazon where you can read the first bit for free to see if you like it. The author also has a website at http://curveswelcome.com/