Gamers really love Minecraft and it's no surprise when the pocket edition version was released that it would become an instant hit. Through the many hours all gamers have put into the pocket edition we've been able to come across some pretty awesome seeds and I'm going to share some of my personal favorites with you here.
What is a seed?
Well Minecraft uses "seeds" to generate custom terrain. Based on what is imputed for the seed you'll get different results. So, below is our list of 10 Minecraft PE seeds you'll really enjoy.
Not sure how to use Minecraft seeds? To generate a fresh world, just click on "New" from the main menu. That will give you a window where you can name your new game and input a seed code. Then, just hit the "Generate World" button and explore the amazing new environment you find yourself in.
Best Minecraft PE Seeds
Have you noticed that the Windows 10 version of Minecraft is not the same as the PC version? Yup, it's not just you! Your PC seeds won't work in the Window's 10 version of Minecraft.
Here's why – Windows 10 version of Minecraft is actually the Minecraft Pocket Edition (PE), just like you get on mobile. And yeah, sometimes people call it the Bedrock Edition.
So, if that's the version of Minecraft you're working with, then let us help you out with some of the coolest Minecraft PE seeds.
1) Lava Mountain, Abandoned Mine Shift, Diamonds, in Extreme Hills 
Seed: 98450566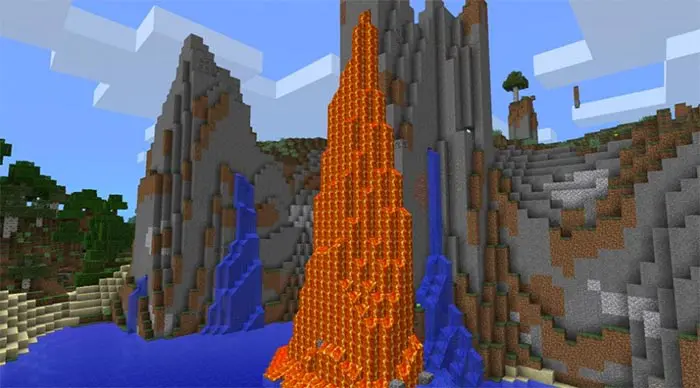 Now here's a seed that really has everything you could ask for except maybe a village. But, village aside this one is rich in valuable ores & materials. Also, the scenery isn't bad either!
2) Multi-Landscape Beautiful View
Seed: 80432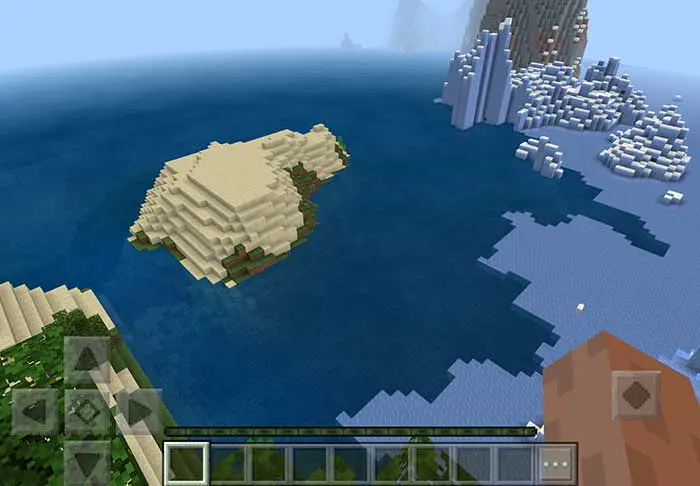 When you use this seed to create a new world, you spawn into a high perch that is perfect for taking in the amazing view. You'll soon notice that this is a multi-landscape world. Spinning around reveals water, the forest, and a frozen landscape.
Wait, is that a polar bear on the ice in the distance? Yes, yes it is – now go tame that beast!
3) Mega Forest Resource
Seed: -1068624430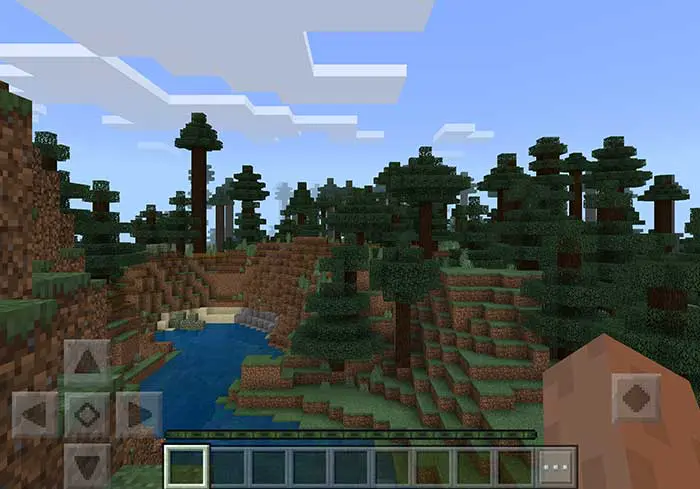 Fancy yourself a Minecraft carpenter? Well, using this seed means that you won't be running out of wood any time in the near future. You spawn high up in a jungle and as you spin round, you'll notice that it's filled with towering taiga trees for you to pillage for their wood.
4) Massive Village Seed
Seed: 1388582293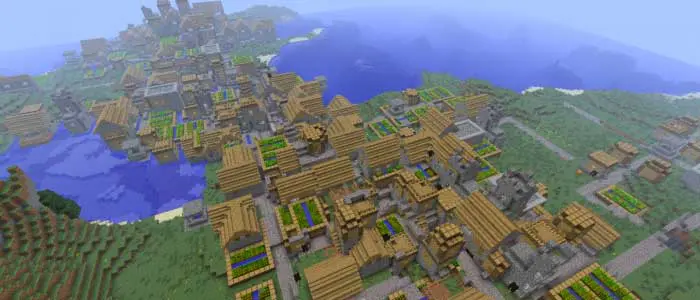 This seed is very unique and sports several villages all connected to each other. You could really do some amazing things with this seed. Just imagine the crazy possibilities! It was originally discovered by a player named JackFrostMiner and over time it's become one of the more popular seeds to play on.
5) Rare Ocean Village with no touching land 
Seed: 1413755523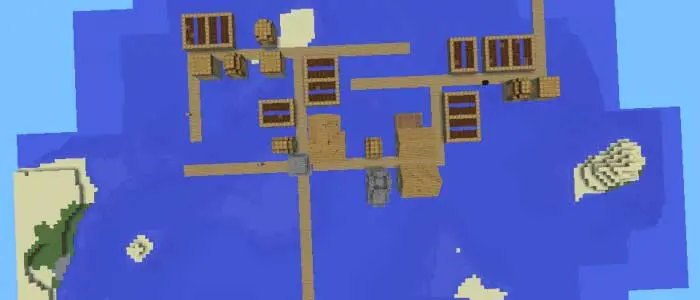 What makes this seed unique is the "floating village". No land mass touches this village and this is a very uncommon thing for terrain generation. If you're looking for a seed with a decent amount of ocean, maybe a sea adventure map, than this is the one I'd go with.
6) Survival Island
Seed: inwhite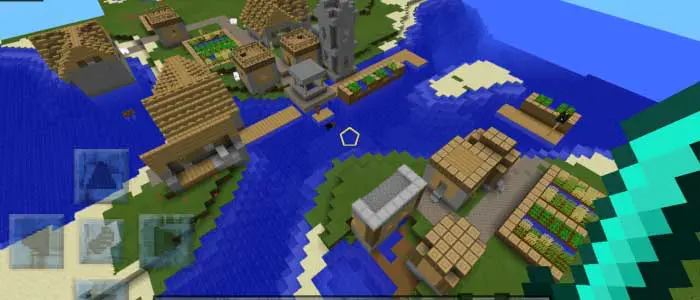 The island on this one isn't your normal small survival island. This island is a little bigger reaching into the medium range and comes with a village. So, if you like being stranded on a island with deranged villagers… this might be the seed you're looking for.
7) Easy Start
Seed: 3015911
Some of you like to get a early boost when you start playing. Well, this seed has Diamonds, Iron, and Redstone directly under the spawn. Doesn't get much easier than that.
8) Instant Stronghold
Seed: robot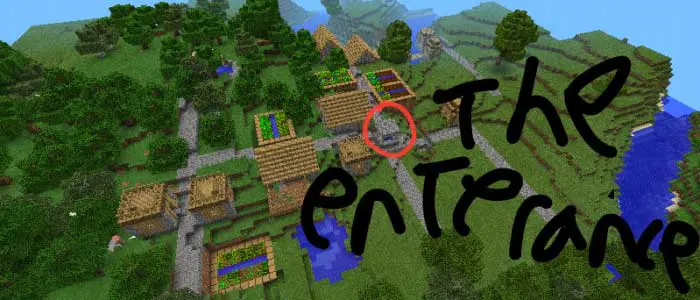 Multiple villages & a stronghold!?!?! Yes, that's right this seed has it all. The stronghold entrance for this one is beneath the well in the village. Just mine down the stone inside the well and you'll find what you're looking for. This could be turned into a fun creative map as well if you enjoy dungeon building.
9) Ice Spikes and Gold
Seed: snowsnowsnow
This seed is a little older around 0.9x but, it's worth the mention. Some unique generation with ice here and it's definitely an uncommon event. To find the gold just mine straight down from where you spawn in.
10) Large Floating Island 
Seed: its a pig
This island is very neatly spawned in and looks absolutely great. Perfect for a floating castle or a nice and peaceful zen style home. Just make sure not to fall off the edge.. I don't think it'll feel very good.
For 2019 we've updated our initial list with more amazing Minecraft seeds that you can have fun with. Our new seeds additions are listed below, including some of the latest Minecraft PE seeds we've found.
11) Awesome overhangs and caverns
Seed: infinity
This is another personal favorite for me. I don't know why but I really like world generations like this one. I think they make for some pretty cool bases that have a nature look & feel to them.
12) Great Plains
Seed: time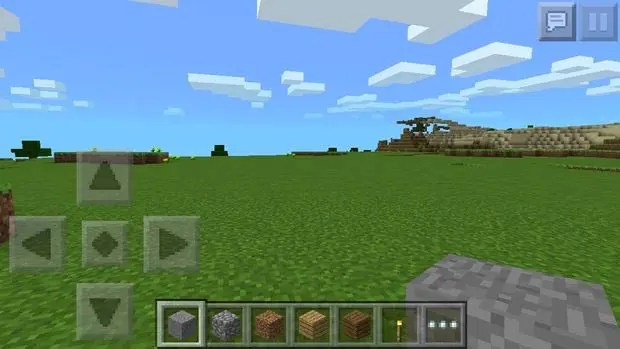 Spawn near a good flat location that is great for building!
13) Ocean Front Village
Seed: 1408162313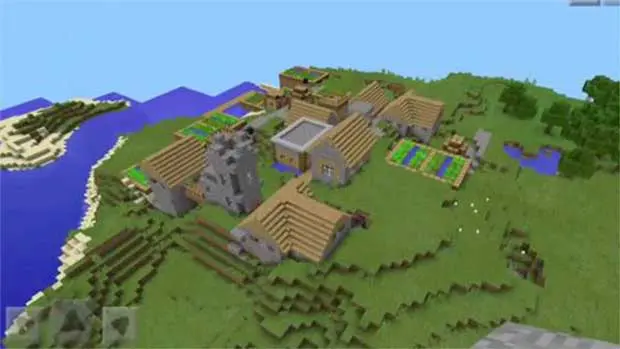 When you spawn this one, you'll notice that it has a good sized village complete with a dock, a pool of lava, and a blacksmith. And yeah, it's on fire you gotta get that all sorted.
But hey, there's a nearby cave system where you can find a monolithic subterranean waterfall, another lava pool and six easily accessible diamond blocks.
14) Extreme Mountain Landscape 
Seed: -2139956204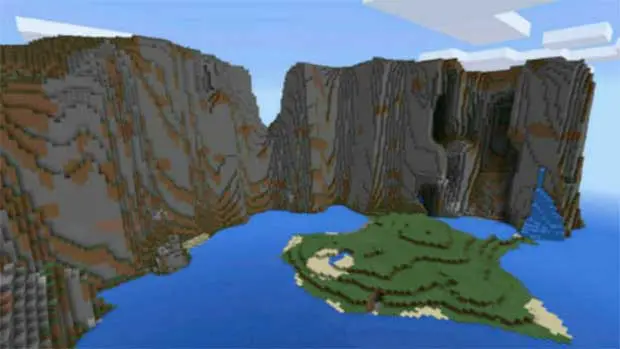 This is a pretty cool seed if you want to spawn an island fortress with epic jagged cliffs, and it's made up of mountains, biomes, and cool natural features. You'll find things like enormous cliff faces, lava flows, waterfalls, and dozens of caves.
15) Minecraft Metropolis Village
Seed: 1388582293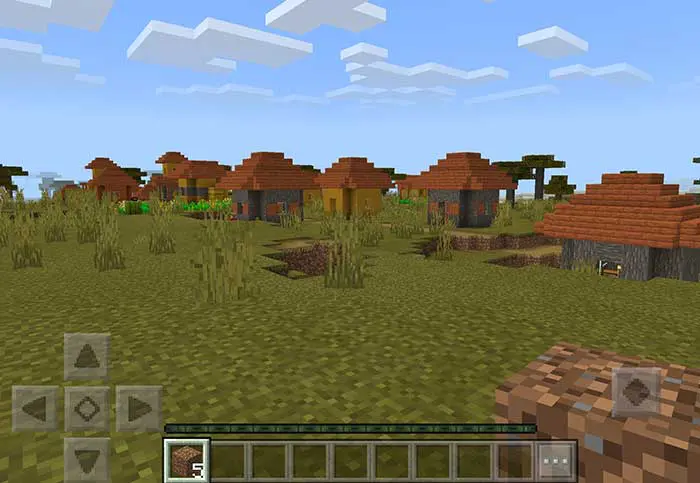 If you've been looking for a good city to spawn into that has lots of houses, gardens, water, and fish – then this is a good place to start. So, stop looking for that perfect metropolis full of houses and use this seed to get right where you want to be in the game.
16) Cocoa Beans Jungle Resource
Seed: XNXX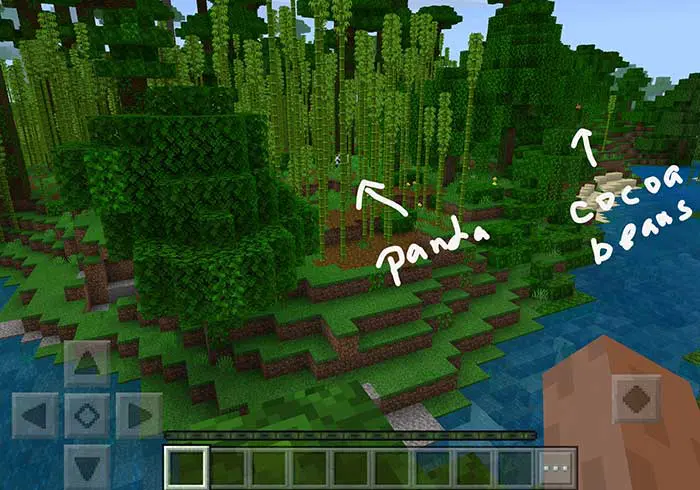 While in previous versions this brought up the desert cliffs biome, in version 1.12.1 you spawn into a cool jungle biome. If you take a 360 degree survey of the area once you spawn, you'll find one body of water. That's not the one you want. Instead, climb up a little (you can literally do this on one of your sides, so spin until you find it) and you'll notice a second body of water and a bamboo jungle with a panda. Yes, a panda!
You'll also notice in the distance some trees with cocoa beans. And if you swim further down that river, you'll find even more trees with cocoa beans. Pretty cool for a resource jungle and a way to find a panda.
17) Savanna and Ocean Villages On The Great Plains
Seed: grownono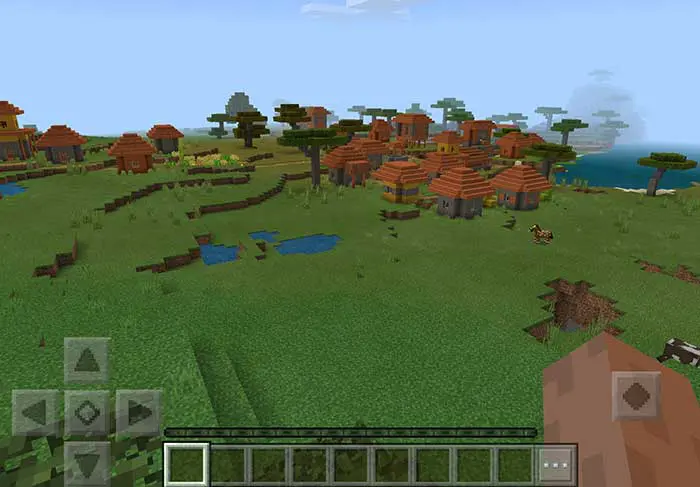 When you use this seed to spawn, you'll be able to immediately see the above pictured ocean village. It's got a nice size and you'll even see some horses and cows. Heck, this is the great plains so there's even a nice flat place for you to build a house, if you want.
However, if you walk towards the savanna, you'll end up finding an even larger village. As you explore more of this seed, you'll find lots of wood to cut, plenty of bodies of water, mountains, and just a darn cool landscape to explore.
18) Incredible Stronghold
Seed: chancecash
This right here has got to be one of the best seeds for Minecraft PE 1.12 (Bedrock). When you spawn, you'll notice a village in the distance (pictured). But wait, there's also a desert village not too far off. And yes, there's more!
Note the ravines that you see. Check out the large mineshaft, find a stronghold plus surface diamonds, gold and other ore. All this is just in the area of the first village. Check out the second one, where there's a ravine with lava coming out of the walls in a zig zag pattern. There's ore and a desert pyramid not too far away.
This is the perfect seed for exploring and seeing what you can find. Based on our time adventuring here, we've found 15 villages, tons of large ravines, some pillager outposts, 2 desert wells, 6 desert temples, a fossil, and more!
Minecraft PE Seeds Name
In case you didn't notice the seed is at the end of each numbered seed above. If you have trouble making one work keep in mind most of them are in all lowercase.
If you like the list above you can find more good seeds on the Minecraft Pocket Edition wiki.
Also, play around with your own seeds and see if you find something cool you'd like to share with us. Just leave a comment below and let us know some of your favorite seeds.
Pocket Edition Multiplayer Servers
Pocket Edition has evolved enough to where you can now host multiplayer servers for minecraft. We are tossing around the idea of maybe hosting a pocket edition server but, we'll have to wait and see what happens. If you wanna learn more about pocket edition software here's a good site to check out.