When Barret Oliver was cast in The NeverEnding Story, he was a veritable unknown.
He'd had minor roles in a handful of movies and guest spots on a few TV shows. (Though, very popular 1980's TV shows like The Incredible Hulk and Knight Rider!)
Then… he became Bastian.
Barrett Oliver as Bastian in The NeverEnding Story
Some roles are so iconic, so ingrained in the collective psyche, an actor will forever be one with the character. But, to land an iconic role, one must first be in an iconic film.
Bastian is that type of role, and The NeverEnding Story was that type of movie.
But what makes The NeverEnding Story and Bastian so beloved?
It could be said, in the narrative of The NeverEnding Story (the book or the film), Bastian represents us. Or, at least, serves as our medium between our world and the fictional realm of Fantasia.
Technically, the core narrative of the film could be told entirely without Bastian.
The slow destruction of Fantasia. Atreyu's journey. Rockbiter. The Childlike Empress. Falkor.
There could have been a hero inside the story who served the same role as Bastian. A character who had to be discovered.
But Bastian is there the entire time.
The story is less about finding Bastian than Bastian finding his way into a world that isn't his, empathizing with those who are suffering inside it, and accepting that he has the power to help them.
Then, Bastian learns he isn't alone either, that we too have been following him.
And the audience learns that we matter to the story too.
That is a heady masterpiece in which we are all swept up.
Barret Oliver's Movies After The NeverEnding Story
After demonstrating his emotional prowess in The NeverEnding Story, Barret Oliver become a much-sought-after young actor.
The same year of The NeverEnding Story's release, Oliver was cast in Tim Burton's Frankenweenie.
The next year, he appeared as the lead in D.A.R.Y.L, a role that would win him a Saturn Award for Best Performance by a Younger Actor.
That same year, he appeared in the Ron Howard film Cocoon.
A handful of other roles would follow – guest spots on TV shows, TV movies, Cocoon: The Return – until Oliver took his final acting role in the 1989 film Scenes from the Class Struggle in Beverly Hills at the age of 15.
What is Barret Oliver Doing Now?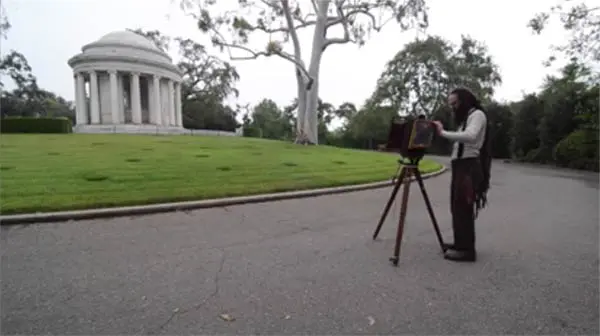 When Barrett Oliver stepped away from acting to pursue his education, he found his passion in photographic printing.
Today, he is a photographer, artist, teacher, and historian of photographic technology.
He specializes in 19th Century photographic processes and equipment, and has had his work shown in museum exhibitions and art galleries.
Oliver has worked with the Getty Conservation Institute in his role as a photographic historian, helping catalogue a history of printing processes, and has had his work commissioned for use in commercials and film.
A History of the Woodbury Type
In 2007, Barrett Oliver released a book on Woodburytype photography, aptly titled A History of the Woodburytype.
The book covers the history and implementation of the Woodburytype printing process, as well as the early stages of the photographic printing industry at large.
Barret Oliver Photography
While Barret Oliver is today known as both a photographer and a printer, his foray into printing his own work is relatively recent.
Prior to publishing his own photographs, Oliver worked printing photographs for other photographers, sticking close to his studies of early printing processes and the Woodburytype.
For twenty years, he worked as a printer for hire, taking photos captured by other photographers and creating Woodburytype prints, as well as other older print types, to create new and unique works of art.
In galleries and museums, Oliver's work is typically displayed as modern art, despite the vintage technology used to create them.
If you want to know more about Barret Oliver's photography work and see the types of prints he's creating, here's an interview and pictorial from PHOTOCULTURE LA.
Barret Oliver 2012 Film
Barret Oliver may have stopped acting after 1989's Scenes From the Class Struggle in Beverly Hills, but he didn't stop appearing on film entirely.
In 2012, Oliver appeared as himself in a short film about Woodburytype photography titled In the Usual Manner.
The blurb for the short is:
A contemporary artist brings his Civil War-style darkroom and gear to The Huntington Library on the outskirts of Los Angeles to produce hauntingly beautiful work 'in the usual manner' of the nineteenth-century photographer.
The film was made as part of a temporary Civil War photography exhibition for the library.
If you would like to see what Barret Oliver looks like as an adult, and get a feel for the type of photographic art he's creating, you can watch the short film below:
Or see it on The Huntington Library's website:
The Huntington Library – Making 19th Century Photographs
It might be strange to us movie viewers to imagine a promising young actor like Barret Spencer Oliver giving up the limelight to focus on an obscure form of photographic printing.
But, if you watch In the Usual Manner, you will get a feel for Oliver's passion for the process.
It's simply a lovely thing to see a person bring something that could have been left to die back from the dead and share it with the world in a new and visionary way.