One of the first games I wanted for my man cave was a dart board.  It's a fun game to play and it's good for mental arithmetic so not only are you having fun, you're working your brain and improving your math skills – a win – win.
And in my pinion no man cave is complete without a dart board in it. But who makes the best dart boards?
Well there are several top quality manufacturers and to help you search for the best dartboard for your needs we will provide you with the results of our tests in the reviews below.
We've also included a buyer's guide to help you figure out the things you should be looking for in a dartboard.  So without any further delay, let's get to it.
1. Winmau Blade 5 Bristle Dartboard Review
Professional bristle dartboard with exclusive British Darts Organization (BDO) endorsement

Increased scoring area with 14% thinner wiring system than the previous generation Blade 4 for higher scoring potential

Reduced bounce-outs and improved dart deflection with 30-degree reduction in razor wire angle

Triple Wheel lock-and-level system easily secures the dartboard to virtually any surface

Incredible durability with Carbon Diffusion technology in bullseye ring for stronger steel
My number 1 choice dart board for your man cave, games room or local watering hole is the Winmau Blade 5 Bristle Dartboard.  I previously owned the exceptional Blade 4, and the Blade 5 goes one step further by making a number of small improvements.
Winmau is the board of choice for the British Darts Organisation (BDO), the world-wide ruling darts body, which is a superb endorsement.  But what makes this dart board so great?
Blade Wiring Increases Scoring Zone and Reduces Bounce Outs
Well, let's look at the wiring technology it uses.  The wiring is what makes the Blade the best there is.
It is so thin (think razor blade) that it provides a larger scoring area in the doubles (9mm² extra) and trebles (6mm² extra) and 14% reduction in wire surface than the already fantastic Blade 4.
Yes, that's great and all, but how does this benefit me and improve my darts, you might be wondering?  Good question.
In simple terms it means you have more surface area to aim at, more chance to score points and it also reduces the probability of your darts hitting the wire and bouncing out of the board.
The Blade 5's Innovative Wiring Design means you have a larger scoring area to aim at whilst reducing the chance of dart bounce outs when you hit the wire frame.
Another benefit of the Blade 5 is that blade wiring has been reduced from the 90 degree angle on the blade 4 to a 60 degree angle.
Winmau has done this AND made the wiring 20% thinner AND made the wire strength 20% stronger.  The back of my dart board box explains this with images better than my words.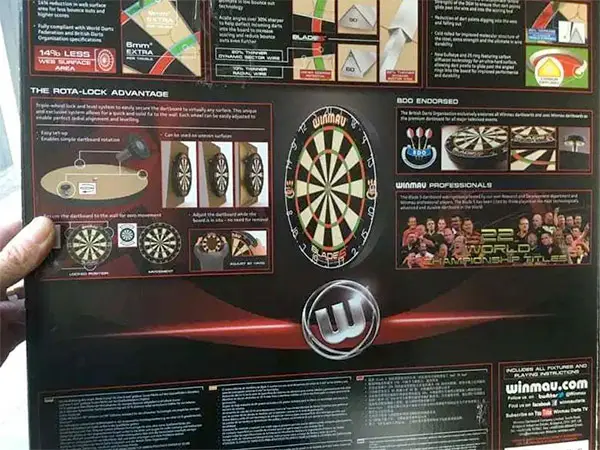 Simple to Fix Level to a Wall
The Blade 5 comes with the centre hanging screw, the wall bracket, 3 adjustable wall levellers and is simple to fix to any wall thanks to their unique Rota-Lock system.
Before this design, when you fixed 'dart boards of old' to a wall, they were never flat and would wobble because of the center bolt attaching the board to the wall would leave the rest of the dart board half an inch or so 'off the wall'.
The Rota Lock system exclusive to Winmau fixes this problem, allowing the dart board to be perfectly flat, level and stable.
Oh and by the way – it's quick and simple to set up to the standard dart board height and distance.  And to prove it – here is mine.
2.  Winmau Blade 5 Dual Core Bristle Dartboard
Dual core construction increase dart point penetration
Blade 5 wiring system reduces bounce outs
Blade 5 wiring system increases scoring area
Triple wheel lock mounting system
Bright colors and looks great
Used by professional darts players
Pricier than other dart boards
The Winmau Blade 5 Dual Core uses the same sisal and blade technology as the  Blade 5 above, however it is constructed with a dual core rather than a single core.  The outer layer of the core has a lower compression and the inner core of the board has a higher compression.
Well that sounds great, but what does it mean?  Well according to our friends at Winmau, this construction absorbs excess kinetic energy which further reduces bounce outs.
Personally, I think the standard Blade 5 provides a superb dart experience for most dart players however if you want to pony up the few additional $s / £s for this additional enhancement then please don't let me stop you.
3. Viper Shot King
Great Value for Money Bristle Board
Round wiring that helps with bounce outs
Staple free bulls eye reducing bounce outs
Moveable / Rotating numbers to prolong dart board life
Comes with 2 sets of darts
The main wiring has staples (unlike the Blade 5) increasing bounce outs
From Viper, the Shot King board is part of a package to get you started playing darts.  In addition to the board it comes with two sets of three darts, six in total.
This means that as long as you can find a piece of paper to keep score on, you and your friend can start playing darts.
Unlike the Blade 5, the wiring is round and apart from the bullseye, it is attached to the board with rivets which adds to the wiring area.  Now, before we were spoiled with the likes of the Blade 4 and 5 from Winmau, most dart boards used this system, and people have gotten on fine playing darts with this type of wiring system.
It is also nearly half the price of the Blade 5 so for a starter bristle board that is regulation size, its great value for money.
The viper shot king also has a rotating number ring which helps prolong the life of the board.
4. Viper Razorback Competition Dart Board
Staple free spider lining reducing bounce outs
Official tournament size
Steel and soft tip darts compatibility
Low glare number ring
Compressed sisal fibers for lasting durability
Some users have mentioned the wires require pushing into the board now and then
The Viper Razorback is in my opinion a 'halfway house' between the Viper Shot King and the Blade series.  It offers a staple free wiring system with a similar quality board to the Shot king.
The price point also falls somewhere between both options.
Personally, if you can afford it, I would go for the Blade series, as I feel the construction of the board itself is better quality.  However, this is a good option if you require a staple free board on a budget.
5. Unicorn Eclipse HD 2 High Definition Dart Board
Dart Board of choice for the Professional Darts Corporation (PDC)
Official Tournament Board used by Pros
Tiny wiring for increased Dart Area
Multi-Color option Numbers
High Visibility Numbers
Uni-lock levelling system
Of all the boards on the market, in my opinion this is the one that will push the Blade 5 series for the title.  The Unicorn Eclipse HD 2 is used in all PDC tournaments around the world.
This means is probably seen on tv more than any other board.  It has a very thin staple free, wiring system that reduces the chance of bounce outs and increases the scoring area.
It has a high visibility numbering system with multiple additional color choices.  Made from grade A sisal, the HD2 will keep the darts in the board and self-heal itself when they are removed.
Just like every dart board, you will need to rotate the numbers every now and then to ensure the longevity of the boards life.  When comparing the HD2 to the Blade series, it really comes down to personal / brand choice.
I prefer Winmau but would happily have the Unicorn Eclipse HD2 in my man cave because it is an excellent pro circuit dart board.
Dart Board Buying Guide
There are a few things to consider when buy a new or used dart board.
Dartboard Material
The first thing that you want to consider when purchasing your next dartboard is what materials that you will be willing to consider. The cheapest option is going to be cork, however, while these boards are cheap to purchase, they also don't have a very long useful life.
In the long run you will probably be better off going with a different material. After that your options are magnetic, bristle and electronic.
Bristle
Bristle boards are made up of very tightly packed sisal fibers. This is the most common type of dartboard and there are a number of good reasons for it.
When the dart penetrates the board, the  fibers aren't punctured, they are moved to the side.   A dartboard made of superior sisal, will heal itself and close the hole made by the dart, after you pull the dart out.
Additionally, since they have no moving parts you don't need to worry about a loss of power or things breaking in the board. They can be very affordable, even higher end models.
Magnetic
The board itself is made of a magnetic material and the tips of the darts have magnets on them. These boards tend to be very affordable, but they are really designed for kids.
They are fun option for when kids are learning to throw a dart and you know that they will not put holes in your war if the kids miss the dart board.
Electronic
In recent years a new style of board has made it onto the market. The electronic dartboard game can range from a cheaper children's toy to a rather expensive board made for a more serious player.
These boards have some great perks in that most models will keep your score and depending on the type, can light up or make noise. Now, since they are electronic they will require some form of power as well as the use of specialized darts.
Frame Wiring or Spider
With both electronic and bristle boards you will need to concern yourself with wiring, though in different ways. The wiring in the electronic options is not something that you'll really see, but going with a quality board you shouldn't have to worry too much.
On a bristle board though you'll be able to see the wiring and it can affect your game. Here we are talking about the metal that marks out different segments.
This is often called the spider.
The thinner the metal is, the less chance you will have of hitting it with a dart.  There are some other spider considerations to think of.
You'll want to look at how the spider is attached to the board itself.  Something like rivets will add more metal to the surface area which can increase dart bounce backs from hitting the rivets when throwing darts at the board.
Rivetless systems, such as the Winmau Blade series will reduce the number of dart bounce backs.
Number Rotation
If you want your dart board to last, you should rotate the outer number ring every few months.  The reason for this is to ensure that one segment of the board is not always being hit with darts.
For example, good dart players will constantly hit the 20 and treble 20 segment.  This will soon get worn from over-use.
Having the ability to rotate the outer number ring will allow other segments of the board to be used as the 20 scoring zone.
The Right Size
A final consideration needs to be the size of your board. Here you can come across two different sizes for most boards.
The first is the overall size of the board. This will be helpful in telling you how much wall real estate you'll need or if it will fit into a particular cabinet, but the more useful number is the target size.
Sometimes this will be listed as the face area or the target face, but it lets you know how large the area you're aiming at is. Generally this is given as a single number, the diameter of the circle.
You can find boards with a target size between 13 and 18 inches, though most regulations state the area should be 17.75 inches.
Kids vs. Adults
The age range could correlate to the skill level, and in most cases it will, but don't ever let your guard down. All jokes aside, there a few things to keep in mind – if you're getting one of these for young kids, definitely go for a magnetic dart board set (they're the safest).
For school-age kids, you can go either for electronic or bristle, but here's the thing – non-electronic boards will force them add up their score mentally, training their memory and mental abilities. On the flip side, electronic boards play with soft-tip darts, so they are that much safer (both or kids and walls).
How to Determine the Budget?
The cheapest you can go is a cork dartboard, but that's barely worth the money spent given how little playtime you'll get out of it. Alternatively, you can go for a coiled paper board, but that's barely any better.
Where you want to start is bristle boards, which are the best option no matter the use. Magnetic dartboards are also cheap as dirt, but just toys.
Out of the more serious choices – bristle and electronic, the higher-end bristle boards cost as much as the medium-range electronic boards, or cheaper.
How to Take Care of Your Dartboard
There are a couple of things you need to keep in mind if you want your dartboard to last as long as possible – the first thing is not to cheap out when buying it, irrespective of the type.
Short of that, here are a few tips on how to take care of your bristle dartboard:
Remember to turn the board regularly; removing the metal wiring and rotating the board a few segments should go a long way to spreading the wear equally; itwon't save the bullseye if you insist on playing Cricket, though.
Never soak the board; this only worked on wooden boards, which are more of collectibles these days than anything; sisal boards will only swell and just fall apart.
Keep your darts sharp; blunt, hooked, ringed or knurled darts can cause rapid wear to your board, so it's important to keep them sharp; the best way to do this is get a specialized sharpener, as well as change the dart points as soon as they become un-salvageable.
The back screw will bear the board's weight, no questions asked, but if you wish to affix any additional weight, this will shorten its life; bottom line, don't hang anything on the board.
How to Protect Your Walls
It is useful to purchase a dart board surround or cabinet to protect the wall area where the dart board is hung.  When I was young, my father used to moan about the number of holes in the wall where I missed the board and hit the wall!
From the picture above, you can see that I have purchased a rubber dart board ring. You will always get a stray dart or two when playing darts and the last thing you want to have a wall peppered with dart holes.
Therefore, it makes sense to purchase a dart board cabinet, surround or dart stopper.  This will protect your walls and your floors and enhance the look of any games room.
The above dartboard reviews are on some of the best dart boards available and any one of them will provide you with hours of dart fun.