If you bought yourself a pair of Bose QC25 noise cancelling headphones back in 2014-2015, then there's a good chance that the right ear of those headphones just suddenly stopped working. And if you're here to figure out if you can fix it without having to replace them, then you're in the right place.
You see, recently my Bose QC25 headphones were working just fine until today. When I put them back on after lunch, the right ear had zero sound coming from it.
At first I was confused, then I got annoyed because these things aren't cheap, then I got angry when I saw that Bose recently stopped replacing these defective headphones, but then I got hopeful when I saw a DIY fix on YouTube.
Yes, I managed to fix my own non-working right ear for my Bose QC25 headphones – and all it took was a small post-it note and a small piece of tape!
Just here for the fix? Scroll down the page to get to it faster.
What You Need To Know About The Right Ear Not Working In Your Bose QC25 Headphones
If you do a search online for this problem, then you'll see that you are not alone in this issue. In fact, tons of consumers all over the world have reported this obvious design flaw/defect with this model of noise cancelling headphones.
And for years, the company refused to admit that this was a defective product.
Instead, they were charging people around $200 to replace the defective QC25s with a refurbished pair.
Fast forward to early 2018 and Bose customer support actually admitted that there was a defective batch of these headphones. The batch was from 2014-2015. And, they actually started replacing people's defective QC25's for free.

Then, by the fall of the 2018 it seems that Bose had stopped replacing the defective product for free. Instead, they began offering people an upgrade to the wireless Bose Q35 headphones for a flat cost of $140.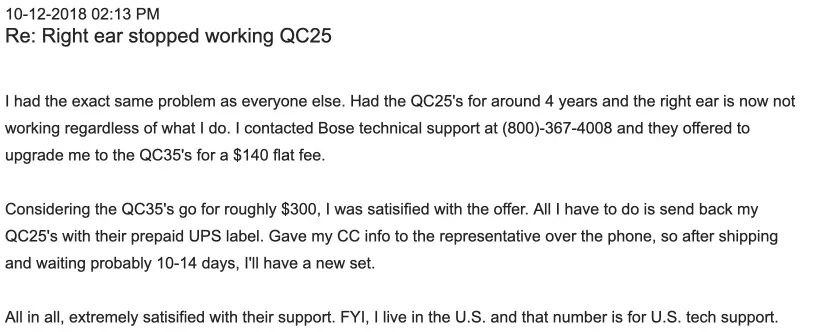 While that is a good deal on a new pair of Q35s, it doesn't change the fact that they were selling a product that they knew to be defective and it should have been replaced for free!
It seems the reason for the change was due to the fact that the QC25s were no longer being made by the company.
Though it appears that some people were still able to get them replaced at no additional cost through the end of 2018.

Unfortunately, with the start of 2019 came an increase in the charge for "replacing" the defective headphones. Instead of $149, Bose customer support began charging customers $189 to replace their defective QC25s with QC35s.
However, at least one customer in Australia was able to get his replaced for free by invoking the Australian Consumer Law.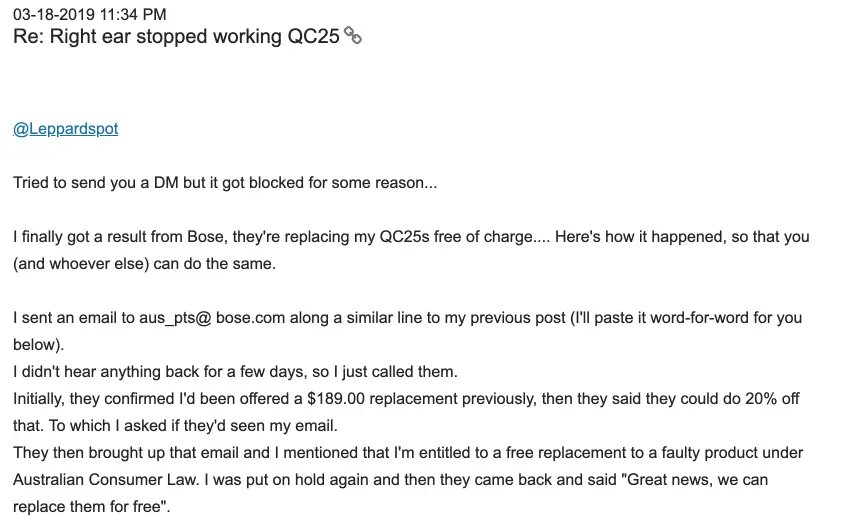 So, if you are in Australia (or a company with a similar law), then I highly suggest that you invoke the same thing to get your defective Bose headphones replaced at no cost.
How To Fix Your Bose QC25 Headphones Right Ear Not Working
Like you, I was not interested in spending money on another pair of Bose headphones simply because these ones are defective and Bose no longer replaces them for free.
Luckily, I discovered a DIY method to fix your right ear on the Bose QC25 headphones. You can watch the video below to see it explained, then I'll give you a few tips.
So, here's what you need to follow the easy DIY fix in the video above:
Small size post-in note (or similar piece of paper)
Small piece of tape
With the post-it note, you will need to fold it over so that it is narrow and firm. The space you need to fit the end of it in is very small and tight.
Note: You are looking for a thin copper wire and it is VERY hard to see! It is located on the upper, right portion of the black plastic area with the holes.
Don't be afraid when you try to touch the copper wire with your piece of paper or post-it note and you see the speaker moving around. It did the same for me and it didn't hurt anything.
You DON'T need to take the battery out. Honestly, I'm not sure why the DIY tutorials tell you to do this since you need the battery in so that you can test to see if the sound is working.
I suggest a small piece of tape for the other end of the folded post-in note so that you can secure it to the plastic inside the ear cup – this will keep the other end of it in-place on the copper wire.
That's it! This quick little DIY fix should get your right ear working again in those QC25 headphones.