London is one of the most visited cities in the world. Which makes sense.
They speak English, which is the world's second language.
They have iconic attractions – Look Kids, Big Ben! Parliament!
And they're popular culture is nearly as invasive as that of the United States. Sometimes more so. Harry Potter or the Beatles, anyone?
London is also a sprawling city with loads to see and do. Which can make it a bit intimidating for first-time visitors.
We're big fans of London, its diverse neighborhoods, and all the city has to offer.
Instead of making you crawl across it, in search of those weird things to do in London that will make the geekiest impression, we've made a list of geeky London attractions that go beyond the Science and Natural History Museums to deep corners of the city's history and potentially into the future.
Things to Do in London for Generalized Geeks
1. Catch a lecture at Conway Hall.
Conway Hall is a nearly hundred-year-old event hall owned by the Conway Hall Ethical Society.
Throughout the year, the hall holds multiple events, some of them performances and social engagements, others lectures, discussions and classes.
The hall is known as a place for independent thinking and holds talks on everything from the usual science and history to pop culture-themed discussions on the impact of Star Wars and Doctor Who.
While you can see something at Conway Hall almost any day of the week, keep an eye out for those lectures if you want to be in nerd heaven.
Right now, the more cerebral talks at Conway Hall are held on Sundays in their "Thinking on Sunday" series.
2. Go to a nerdily-themed museum (or studio).
When it comes to nerd museums, London may well hold the record. Authors, academics, and scientists are honored in museums all over the city.
It's the country's fictional characters, though, who may provide the geekiest museum experiences of all.
The Who Shop, which has been selling Doctor Who gear since 1984, also houses a museum with props from the long-running series.
221b Baker Street, home to fictional detective Sherlock Holmes, has been turned into The Sherlock Holmes Museum, which does its darndest to put visitors right into the Victorian era setting of the books.
And if you've got half a day and you're a Harry Potter fan, you absolutely must take the train and bus to the London suburb of Leavesden and "The Making of Harry Potter" studio tour.
This thing is immersive. I promise, you will feel like you're in the Great Hall and the Ministry of Magic.
3. Say something at Speakers Corner.
Speakers Corner in Hyde Park is not the only place where you can speak freely in London. But it is the most famous.
Hyde Park was designated as a place to meet and speak freely in 1872, after a series of protests defied government bans to march into the park anyway.
Since that time, thought leaders like Karl Marx and George Orwell have spoken there. Suffragettes met not far away at the Reformer's Tree. And multiple anti-war rallies have been held on the spot.
Speakers Corner is located in the northeastern corner of Hyde Park. Anyone can speak there on any (lawful) subject at any time.
So, prepare a monologue and communicate to the masses.
Things to Do in London for Book Nerds
4. Visit the British Library –
The British Library is one of the largest libraries in the world, second only to the Library of Congress in Washington D.C., and gets almost as many visitors (nearly 2 million each year).
That's because, just like at the U.S. Library of Congress, you can put your eyeballs on some real literary gems when you stop in.
The U.K.'s national library contains such historic documents as the Magna Carta and the death warrant of Mary Queen of Scots, as well as Shakespeare's First Folio and Jane Austen's writing desk.
You won't be able to put your hands on these items and try to channel their inspirational power. But you can give them a good ogling.
5. – or the National Poetry Library.
T'is a rare lover of literature who doesn't also adore at least one poem. And London's National Poetry Library houses the largest public collection of modern poetry in the world.
The focus of the library is on poems published within the last 100 years or so – they aim to have all poetry published in the UK since 1912 as part of their collection – but that doesn't stop them from digging deeper into the past.
If you're looking for a walk through the history of poetry, there is no place better in the world.
Things to Do in London for Theater Nerds
6. Talk Shakespeare at the Globe.
It may not be the original Globe Theatre that was constructed by Shakespeare's company, but the influence of Shakespeare on London's modern Globe couldn't be more pronounced.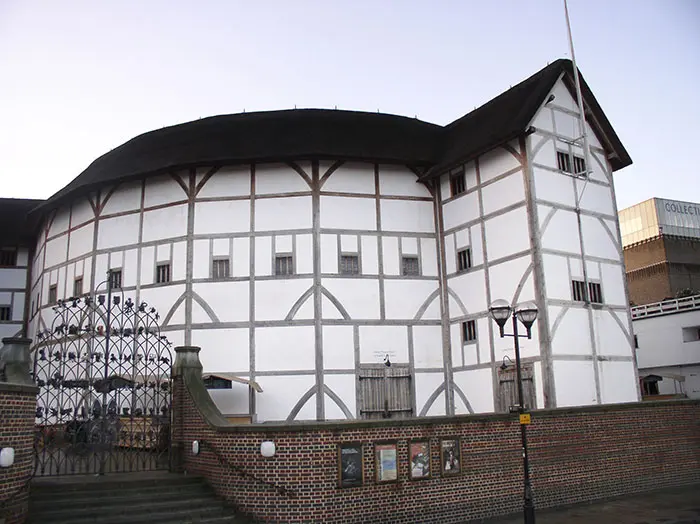 It's officially called Shakespeare's Globe, for starters. And, during the season, the theatre puts on multiple of Shakespeare's plays for tourists and locals.
They also do pre-performance talks.
So, if seeing Shakespeare in a theatre reconstructed from Shakespeare's original design isn't drama geek enough for you, you can always coincide your visit with an in-depth discussion.
7. Take a theatre tour.
London's West End is as iconic as New York City's Broadway.
Its St. Martin's Theatre is home to the longest running play in history, Agatha Christie's The Mousetrap.
It sees as many, if not more, celebrities grace its stages each year.
And it carries on a tradition of legendary playwriting. The London theater scene produced a bevy of unprecedented authors from William Shakespeare to Oscar Wilde.
You can get some history on London's impressive theater stats with a theater tour.
Theatre Royal Drury Lane – the West End's oldest theater – offers tours that are almost as drama and comedy-filled as the works that grace its stage.
While a West End Theatre Walking Tour will give you an overview of the entire West End's History.
https://www.viator.com/tours/London/West-End-Musical-Theatre-Walking-Tour-in-London/d737-17806P1
Things to Do in London for Comic Book Geeks
8. Get two-dimensional at The Cartoon Museum.
London's Cartoon Museum has been around since 2006. And it's also brand new to London.
Featuring 250 changing exhibits from its archive of more than 6,000 British cartoons, animations, and illustrations, the museum got a new location and an upgrade in 2019.
With design based on comic and cartoon graphics, the space is as much a work of art as the cartoons and sketches on display.
A super quirky thing to do in London, you'll feel like you're in a comic strip.
9. Try not to drool on the back issues at 30th Century Comics.
Like most big cities, there are plenty of comic book stores in London. But, if you're looking for that truly special experience, you need to get to 30th Century Comics.
30th Century Comics specializes in vintage British and American comics and books from 1900 until the present, and they have more than 100,000 items on display in-store.
There is simply no other comic shop in London that has so many issues from so many decades.
That can make searching for that much-desired back issue at 30th Century both time-consuming and overwhelming. But, worry not. If you find what you're looking for on their website, you can order by email and pick your comics up in store.
Things to Do in London for Science Geeks
10. Investigate the Brompton Cemetery Time Machine.
Is it science, or is it nonsense? Who can say?
What we do know is that the mausoleum of Hannah Courtoy and two of her daughters is a rumored time machine and shrouded in mystery.
Finished in 1853, the mausoleum is designed in Egyptian style, purportedly by famed Egyptologist (and friend of Courtoy) Joseph Bonomi. And since the late-1970s, the mausoleum's key has been missing.
Could the Courtoy tomb send you spiraling into the past or the future? It's worth a stop by Brompton Cemetery to see why people believe it might.
11. Stand on the pulse of time and geography at The (Real) Prime Meridian.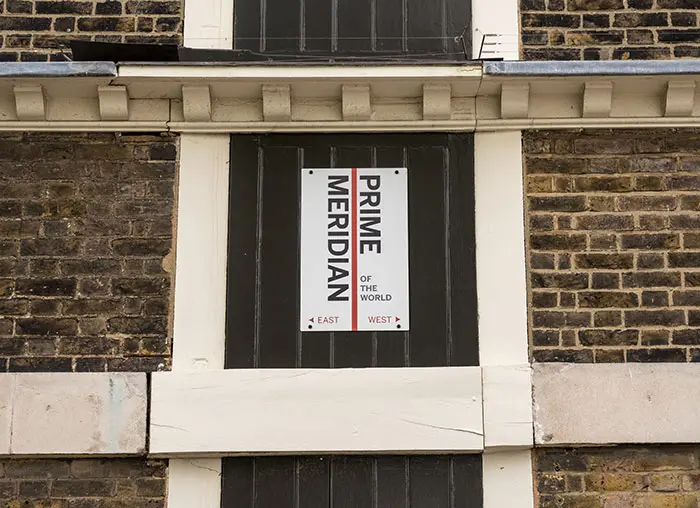 The Prime Meridian is an intangible (note: not real) line that somehow manages to govern our sense of both time and place.
While the equator represents 0° latitude, the prime meridian represents 0° longitude and a reference point for determining the time zones of the world.
The meridian, located at London's Royal Observatory, is not exactly an unusual place to visit in London – it gets over 1.5 million visitors each year – but the true meridian gets fewer visitors.
Modern equipment has shown that the brass strip which marks the meridian at the Royal Observatory is about 100 meters off. The real meridian lies 100 meters to the east. And you needn't pay to get into the Royal Observatory to see it.
Instead, start walking due east away from the observatory with a GPS app and when your longitude hits zero, you'll know you're at the true meridian.
Godspeed, Nerdlings, at finding your treasures.