Known for being a "city that never sleeps" – don't worry early risers, it does – a city of fashion and the location for thousands of popular movies and TV shows, New York City doesn't really bill itself as a geek's dream destination.
But New York is a huge, diverse city of plenty.
Two avenues over from the high-end shopping mecca of 5th Avenue lies the campy, unapologetic tourist trap of Times Square.
New York has both the world's most famous sports arena and the world's most famous public library (Thanks, Ghostbusters!).
NYC is a decidedly geeky place, despite its Met Gala and fashion week reputation. I mean, it is literally a city bursting with former high school drama club members just waiting for their big breaks.
Here at Geeky Matters, we love New York. And all things geeky.
So, we've combined those loves into a list that takes you beyond the Natural Museum of History, the New York Public Library and the lights of Broadway to all the geeky places guide books dare not tell you to go.
Things to Do in New York City for Generalized Geeks
1. See a play.
I know what you're thinking. Everyone goes to the theater while they're in New York. And it's true. A lot of tourists do.
But those people see musical theater. You know, those productions that get all the advertising on the Tony's and the Macy's Thanksgiving Day Parade.
Even plays with massive star power have struggled to draw audiences over the past seasons. Sally Field closing early? The heck? Which spells bad news for the future of plays without music.
Want to save New York theater?
See a play.
2. Go to a themed restaurant/bar.
New York has many themed dining places, for veritably every nerdy taste.
Beetle House sells itself as a year-round celebration of Halloween, with a menu and décor inspired by Tim Burton, Edgar Allen Poe and other masters of the macabre.
They also serve a Sweeney Beef. Beef? Beef, you say?
Oscar Wilde is a bar and restaurant of sumptuous Victorian design where you can have a drink with a bronze of the playwright or curl up beside an 1840s French fireplace.
And if you're heading out to Brooklyn, you can stop in at The Way Station, which holds a Geeks Who Drink trivia night and proudly proclaims itself a nerd bar.
3. Whisper in Grand Central Station.
On the lower level of Grand Central station, near the Grand Central Oyster Bar & Restaurant, there's a low-arched domed space with a "whispering wall." Or, rather, whispering corners.
The correct space is the large one directly visible from the Oyster Bar doors. Not the smaller one right next to the Oyster Bar with the stairs, but the one that touches it.
Here, you can whisper in one corner and your friend can hear it in the opposite corner of the space. Hint: Put your ear right against the wall.
While whispering galleries like this exist in many places around the world, Grand Central's is impressive simply because it's always busy there and always loud, which makes hearing a whisper that much more impressive.
Things to Do in New York City for Book Nerds
4. Go to Strand Book Store.
If you are a true, dedicated book nerd, you've probably heard of Strand with its 18 miles of books.
And it IS impressive. The sheer number of titles here is mind-boggling.
It's also your chance to get that out-of-print book you've been searching in vain to find.
Tip: If there's something you've been looking for, check Strand's website in advance. You can buy online and pick up in-store. It can be overwhelming once you're in there, and they don't have fainting couches.
5. Stand in awe in the Morgan Library & Museum.
You know all those memes you share about the library of your dreams? The Morgan Library & Museum is your chance to stand in the middle of one.
The museum also has changing exhibitions of artworks and printworks and is home to three Gutenberg Bibles – the most in any single collection.
Things to Do in New York City for Theater Nerds
6. Take a self-guided theater walking tour.
While strolling down 42nd and its surrounding streets will get you a glimpse at most of the theaters classified as Broadway, it won't take you past the most iconic theaters in the city.
But you can see Radio City Music Hall, Carnegie Hall and the Lincoln Center in a 2 ½-mile loop from Times Square.
Also pay special attention when you're walking past the Lyceum Theatre on 45th Street. It's the oldest continuously-operating theater in the city.
7. Get a cup of coffee and inspiration at The Drama Book Shop.
The Drama Book Shop is a New York institution that was forced out of business by another New York institution – rising rent prices.
But Lin-Manuel Miranda and his Hamilton collaborators rushed into rescue it and it's reopening on 39th Street as a café-bookstore.
With "set design" by Hamilton set designer David Korins, let's hope a little star power keeps it in business this time.
Get ye there, theater nerds. And, for the love of God, buy something.
Things to Do in New York City for Comic Book Geeks
8. Do the Midtown comic store tour.
As a comic lover, there are three Midtown comic book shops you would be remiss to skip – Midtown Comics, Kinokuniya New York, and Montasy Comics NYC.
Midtown Comics Times Square is a traditional comic store, with all the titles and collectibles you'd expect to find at a comic shop.
Kinokuniya New York is an anime/manga-heavy comic store with selections in both English and Japanese.
Montasy Comics is a li'l bit comic store compared to Midtown Comics and Kinokuniya, but provides community gaming space and hosts weekly gaming events, so it's great for a geeky pop in.
9. Take a Superhero/Supervillain Bus Tour of NYC.
Many superhero flicks were shot on the streets of New York City. A fact that was most recently re-illuminated by the popularity of the Joker stairs, which fans have been flocking to in droves in The Bronx.
A superhero bus tour of NYC will take you to dozens of locations where superhero movies were shot in the city. There are multiple NYC bus tour companies that offer them.
Or, if you've got the time and motivation, do it on your own. Track down the spots from your favorite movies and TV shows and plan your own walking tour.
Things to Do in New York City for Pop Culture Geeks
For pop culture geeks, New York City is a mecca. You won't have to walk far to run into something entertaining to see. The billboards in Times Square alone are full of bigger-than-life pop culture icons.
But here are a couple suggestions you might not know about.
10. Go treasure-hunting at Paley Center for Media.
You might have heard of Paley Center from their festivals and screenings. What you might not know is that the Paley Center is first and foremost an archive.
The center keeps a collection of 160,000 TV and radio programs that you can access in the Paley Center Library. Pretty much any TV show you can think of, even those that only lasted a season or never made it beyond a pilot episode, can be found there.
If that's not TV fan nirvana, I don't know what is.
11. Get some laughs with the legends at Carolines.
Maybe you've heard about this comedy club that spawned Jerry Seinfeld, Lisa Lampanelli and Chris Rock among others. But maybe you don't know why you should go there unless there's someone on the bill you want to see.
In our personal experience, Carolines is a practice range for all levels of comedians. Every time we've been there, someone unexpected has hit the stage.
One time it was Dat Phan, coming right off his Last Comic Standing win. Another time it was Joy Behar, popping in from The View.
We can't guarantee you'll get lucky with guest acts. But what's the worst that can happen? You see some comedy and have a few laughs.
New York is a city to see, whatever your tastes. But, for geeks, knowing what you're looking for can turn NYC into a treasure hunt of monumental proportions.
You might even happen upon gladiator training in Central Park.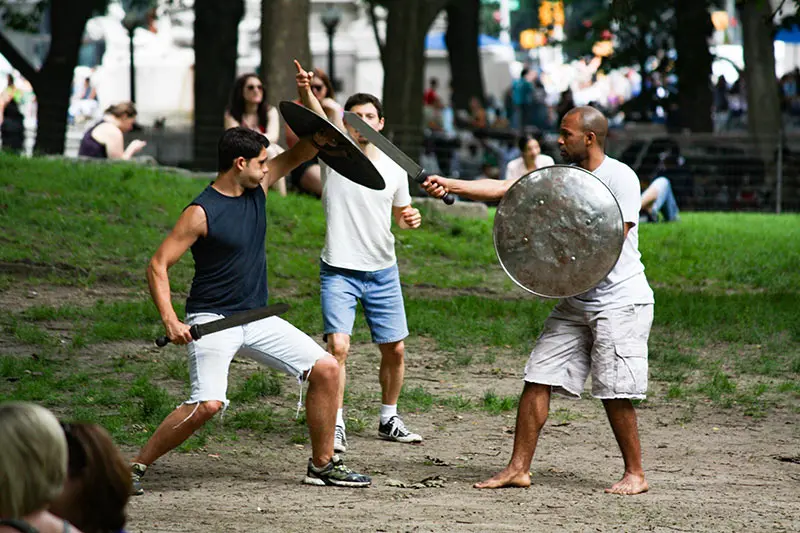 Godspeed, Nerdlings, at finding your treasures.