Eager to dive into the latest episodes of your favorite HBO Max series, but the app is playing hide-and-seek on your LG Smart TV?
Worry not, because we're here to help you track it down and get your watch party started!
Whether you're a fan of action-packed dramas, hilarious comedies, or fascinating documentaries, we know how important it is for you to have access to the treasure trove of content that HBO Max offers.
So, without further ado, let's get started and help you find the HBO Max app on your LG Smart TV in a jiffy. 
Compatibility of HBOMax App with LG Smart TVs
Did you know that only certain LG smart TVs have the HBO Max app?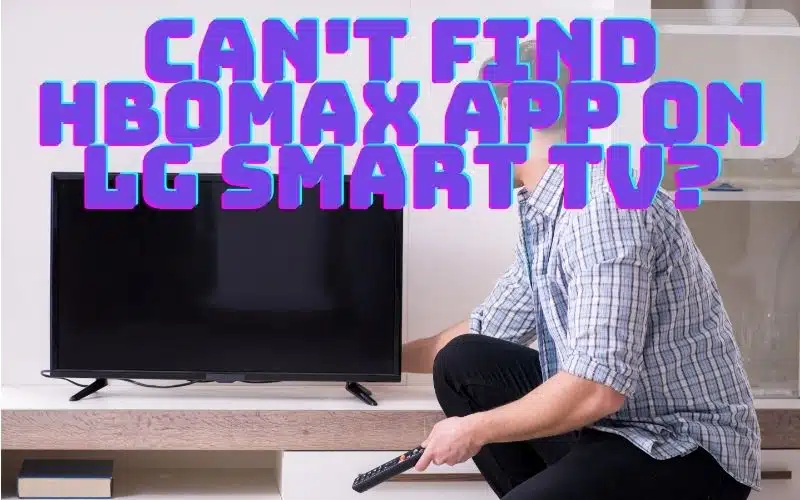 Supported LG TV Models
Man, I tell ya, figuring out which LG Smart TVs are compatible with the HBO Max app can be quite tricky.
But no worries, 'cause I got you covered. So HBO Max works with most LG Smart TV models from 2018 or later.
You can find the full list of compatible models right here:
OLED Series: OLEDZX, OLEDWX, OLEDGX, OLED CX, and OLEDBX
NANO Series: NANO99, NANO97, NANO90, NANO91, NANO85, NANO80, and NANO81
UN Series: UN8570, UN8500, UN7370, UN7300, UN6950, UN7070, and UN7000
SM Series: SM9970, SM9500, SM9070, SM9000, SM8670, SM8600, and SM8100
UM Series: UM8070, UM7570, UM7370, UM7300, UM7170, UM7100, UM6950, UM6970, UM6900 and UM6910
UK and SK Series: SK9500, SK9000, SK8070, SK8000, UK7570, UK7700, UK6570, UK6500, UK6300, UK6200, UK6190, and UK6090
Now, that's quite an extensive list, so it's likely that your LG Smart TV is compatible with HBO Max if you've bought it in the last few years.
WebOS 4.0 Requirement
These LG Smart TVs are runnin' their own operating system called "webOS."
To have HBO Max on your LG TV, you need a TV model with webOS 4.0 or later.
So basically, TVs from 2018 onwards usually come with webOS 4.0 or above, making 'em compatible with HBO Max.
In case your LG Smart TV ain't compatible, your only real options are to replace the TV or get a streaming stick.
Installing HBOMax App on LG Smart TV
If your LG smart TV supports the HBOMax app, then we've got the deets on how to install it.
Using LG Content Store
So, I was trying to install the HBOMax app on my LG Smart TV the other day, and I found it super simple using the LG Content Store.
Here's how I did it:
Grabbed my LG remote control and hit the home button.
Selected the LG Content Store from the options.
Looked for the search icon, which was a magnifying glass in the upper right corner.
Typed in "HBO Max" and hit search.
Selected the HBO Max icon and started the download.
Just like that, the app was installed and ready to use.
Updating WebOS
My buddy had an older LG Smart TV, so I told him the app might not be available on webOS versions below 4.0.
He should check for a WebOS update to make sure he's running a compatible version.
Here's what I suggested:
Go to Settings.
Choose All Settings.
Scroll down to General.
Select About This TV.
Look for the option to check for updates.
I told him to follow the prompts to update webOS if an update is available.
Troubleshooting Installation Issues
Another friend told me he couldn't find the HBOMax app on his compatible LG Smart TV.
So, I told him to try these troubleshooting steps:
Unplug the TV for 30 seconds, then plug it back in. This resets the TV, which might help with software updates.
Make sure your Smart TV is connected to the internet. The app won't show up if the TV is offline.
If all else fails, reach out to LG Support for some extra assistance.
By following these steps, they should be able to access the HBOMax app and start binge-watching their favorite shows like I did.
Alternative Ways to Access HBOMax
Can't get the app on your LG smart TV? Luckily there are other ways to use it on your TV.
Using Amazon Firestick, Roku, or Apple TV
If you can't find the HBOMax app on your LG Smart TV, don't worry, there are alternatives!
One easy way is to use a streaming device like Amazon Fire TV, Roku, or Apple TV.
Just plug it into your TV's HDMI port, connect it to the internet, and you're all set!
You'll find HBOMax and loads more streaming apps there to enjoy.
Using Xbox or Playstation
As a gamer, I've discovered that my Xbox and Playstation consoles are great for streaming too.
They have the HBOMax app, so all I have to do is fire it up, log in, and kick back for some binge-watching.
Streaming with HDMI Cable
Another solution is connecting a laptop or desktop computer to your TV using an HDMI cable.
This way, you can stream HBOMax (or any other content) from a browser on your computer right to the big screen.
Pretty neat, right?
Casting
Lastly, if you've got an iPhone or an iPad, you can use Airplay to cast HBOMax directly to your LG Smart TV.
You'll need a 2019 or newer LG TV with AirPlay 2 support for this to work, though.
Just hit the AirPlay button on your Apple device, select your TV, and you're good to go!