Minecraft fans rejoice, cause things are about to be taken to a new level with the introduction of augmented reality, or AR, in the newly announced Minecraft Earth. That's right, shit is about to get real, as in real world.
What Is So Different About Minecraft Earth?
Since it uses AR, you are going to get a whole new Minecraft gaming experience. Like the popular Pokemon GO, you will be building on your phones, and overlaying on live video of physical locations in the real world.
Another different thing about this game is that it does have the different modes like creative or survival. Instead, it's all been blended and mixed together into one awesome game mode.
"This is an adaptation, this is not a direct translation of Minecraft," explains Torfi Olafsson, game director of Minecraft Earth.
But the basics of game play are all still the same. And there's even a new pig who really loves mud!
One new change to the game is that there is a progression in Minecraft Earth with levels and experience points that are similar to a traditional role-playing game, instead of that classic Minecraft experience.
Additionally, you get to earn Rubies, the in-game currency for Minecraft Earth, that will let you buy things like build plates, potions, and more content.
What is really cool about Minecraft Earth is that the whole world is open to you because the game designers have taken actual maps of the entire real world (based on OpenStreetMap) and converted them to Minecraft. So, if you see a lake, then you can fish in it. Are you in a park? Then you can chop trees in it.
Are There Real World Collectables in Minecraft Earth?
Yes, there are! Just like in the Pokémon Go game, players have to go on out into the real world to collect things.
But instead of pokéstops, Minecraft Earth is calling them "tapables" and they are randomly placed in the world around you.
Don't worry about distance of the Minecraft Earth tapables cause there are always two nearby, and if that is not enough then you can walk to get more.
These tapables that you will come across during game play are designed to give you small rewards that allow you to build things in the game. Make no mistake about it,  you'll want to collect as many of these rewards as possible to get the resources and items that you need to build vast structures in the building mode.
When Is The Release Date For Minecraft Earth?
Like all good things, we have to wait a while for Minecraft Earth to be available for download.
Minecraft Earth is due out this summer 2019, according to Microsoft. Unfortunately, there is no solid release date, yet. We do expect that the first release this summer will actually be a limited public beta release, so you might be able to stay playing it before your friends.
While no date has been given for the non-beta version, our bets are for the last quarter of 2019.
Now, it's possible that you've been anxiously awaiting this announcement for a few years now since Microsoft actually showed off a demo that used the HoloLens AR headset to project this virtual Lego-like world over the real world objects, back in E3 2015. But alas gamers, the HoloLens is still not available for us to buy, and honestly it is crazy expensive and we probably wouldn't want to buy it anyways.
What Can You Expect From Minecraft Earth?
This is going to have everything that you love about Minecraft with everything that you didn't know you were missing.
In Minecraft Earth, players wander the real world looking for points of interest to collect resources, which they can then use to build stuff.
Animals from the regular game of Minecraft are still going to be there in Minecraft Earth, where they can be found, bred and used to populate your creations.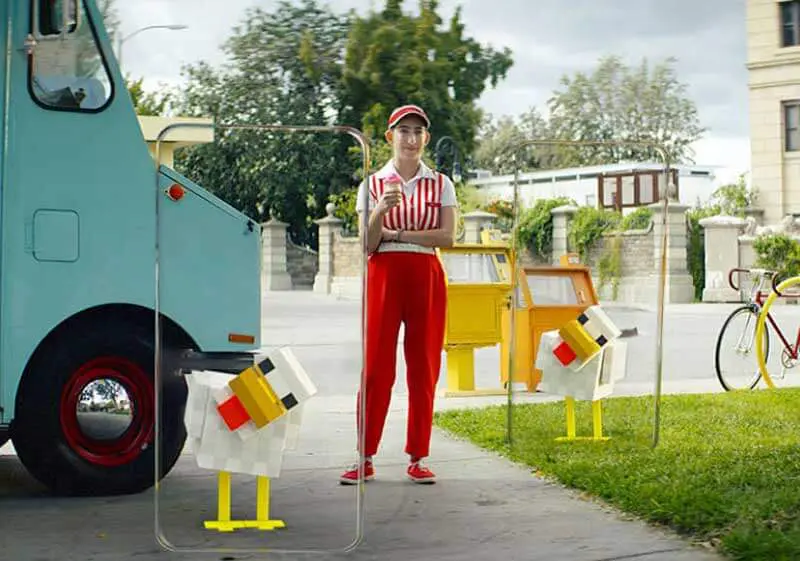 Minecraft Earth will have some kind of Survival modes, where you might have to deal with Creepers or Endermen.
From the start, each player has a library of build plates, and there are some that are as big as 200 x 200 feet. You can use build plates to sit a Minecraft build down on a table and build something with friends. What's cool is that every piece of material that a friend uses on your own plate will then be part of your build. That means that it's a collaborative effort to create giant structures. And playing solo (if you go that route) will mean a lot of searching around for materials.
According to New Atlas,
Your building canvas starts off miniature, scaled down so you can build a house or scene on a table, like you would with a Lego set. Once you have it just how you want it, you can then walk down to your local park and plonk down that creation into the real world, where it scales up to life-size. These buildings are then persistent within the game and locked to a location, so any other players who happen to visit the park can admire and build on (or dismantle) your handiwork.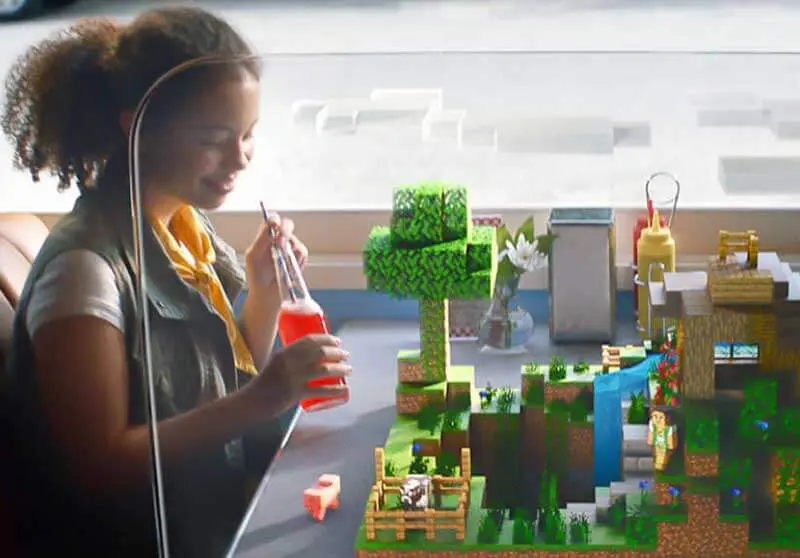 Like Pokemon GO, we expect there to be some collaborative efforts in the game. So, all the builders in the same spot can work together to build together. You'll also probably be able to undertake adventures and challenges of some kind.
And yeah, you will most likely have to fight off more aggressive creatures like Creepers or Endermen in some way. Didn't think you were getting out of that, did ya?
What's really cool about this new game is that you should be able to you'll be able to walk into the food court at your local mall and point your phone's camera at a McDonald's Minecraft adventure while you're eating a Big Mac or see your own giant structures next to actual buildings.
Sounds epic, no?
According to The Verge,
All of the blocks that are collected during an adventure are shared with fellow players, so there are no player-versus-player battles here to kill each other and steal materials. You'll even see the tools that fellow players have in their hands on your phone's screen, alongside their username. The idea is that you essentially become your phone in Minecraft Earth, and your camera is a lens into this virtual world.
Minecraft Earth is a new free-to-play game for iOS and Android.
image credits: Microsoft/Minecraft