Minecraft PE the game of forever? The mobile edition of Minecraft has been very successful for a very long time. It continuously tops the charts for both iOS and Android. Though it's been on that list for some time it's still the top paid app! That's very impressive! It means Minecraft is going to be around for a long time. We definitely don't see this game fading out anytime soon.
What's so good about Minecraft PE
You can buy Minecraft PE the game directly from Amazon or from other platform stores. What makes it so good is how unique and fun it is compared to other games on hand held devices. Where else can you build anything your imagination creates?
You're able to save your games & worlds to play at anytime. If you're with a friend on the same internet you can play LAN together. They now also have actual servers for minecraft PE the game. That means you're able to play online with other people around the world directly on your smartphone.
So, as you can tell the app and other services have really expanded for Minecraft. You can find a great list of pocket edition servers to join and play. It's the best way to enjoy the pocket edition of Minecraft in my opinion.
Just take a look at how amazing of a phone game this can be:
Other Minecraft Games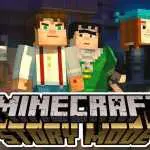 With Minecraft PE the game growing as it has the people at Mojang have released other related games. What am I talking about? I'm talking about Minecraft Story Mode! What's really great about this is they're giving an actual story line to the series. Which is awesome! One day we'll even have a movie, but still we wait on that.
As for story mode it's really amazing. A great release by Mojang and it's only around $25 USD!
Minecraft story mode is an evolving world where your choices decide the outcome of the game. So, every choice you make changes the outcome of the game. It literally will be different for each person who plays the game. I personally really like this aspect. It adds replay value, unique experiences, and adds a lot of fun to the game.
Minecraft PE Seeds
If you've decided to pick up the pocket edition of minecraft then make sure to check out some great minecraft pe seeds. There's some really unique maps out there to play. Some will give you a good start in the begging, start near HUGE villages, or even find a small island to begin on.
Also look around this site for some other amazing pocket edition seeds. They have a regularly updated list that's definitely worth a look.
As always let me know what you think about minecraft pe the game by leaving a comment below. Hope you enjoyed the post and if you have pocket edition do you play on the online servers?