If you, or your kiddos, have fallen in love with the cute duo of Molang and Piu Piu, then you might be interested in a little creative time with some fun Molang coloring pages.
The adorable Molang the bunny and Piu Piu the chick are waiting for your artistic take – so print out your favorites below and get busy with your crayons, color pencils, and markers.
1. Molang And Piu Piu In Molangland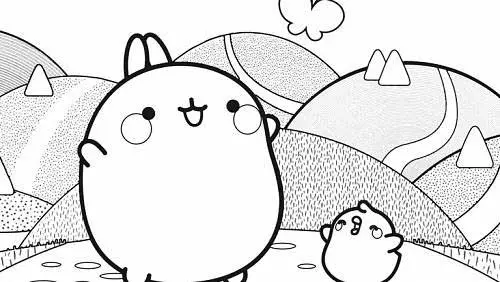 This one gives you best friends Molang and Piu Piu outside having a good time surrounded by the scenery that you know and love from the show.
How to download these coloring pages: Use our download links below to get to the coloring page. If it doesn't start downloading automatically, you can right-click on the image and either print it out or save it to your computer for later printing.
2. Molang In Bell Hop Hat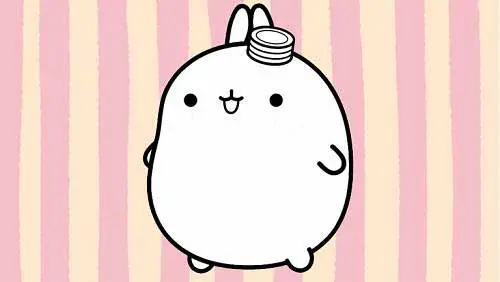 Remember the episode where Molang and Piu Piu take over managing the hotel while the owner goes away on vacation? And they both put on those cute little bell hop hats? Well, here's a coloring page of Molang wearing his funny bell hop hat.
3. Molang As A Cowboy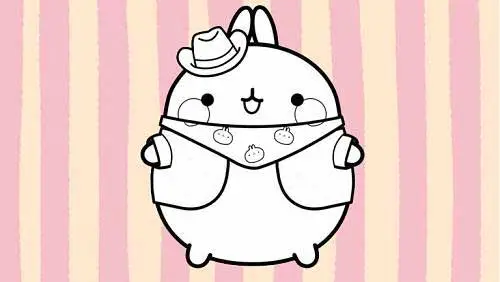 Here's another fun one! Remember the episode where they get all dressed up like cowboys? I know, they actually did this more than once, which is awesome since they look so cute dressed up like this!
Well, if you enjoy it as well, you can download this coloring page that shows Molang in is cowboy costume.
4. Molang On A Bike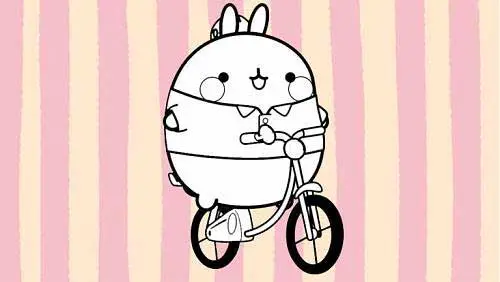 Like the cowboy outfit above, we've seen Molang riding a bike in more than one episode. Though he doesn't always look this cute with the little helmet and shirt on.
If you think this one is cute, then download it and start coloring Molang on his bike.
5. Springtime Molang and Piu Piu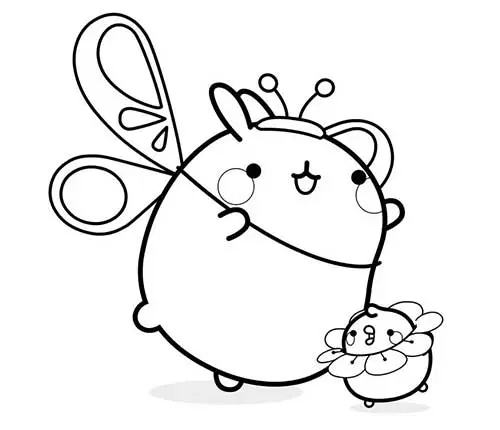 If you're looking for a springtime coloring page, then this adorable one of Molang as a butterfly and Piu Piu as a flower is sure to be just what you need.
6. Molang As An Astronaut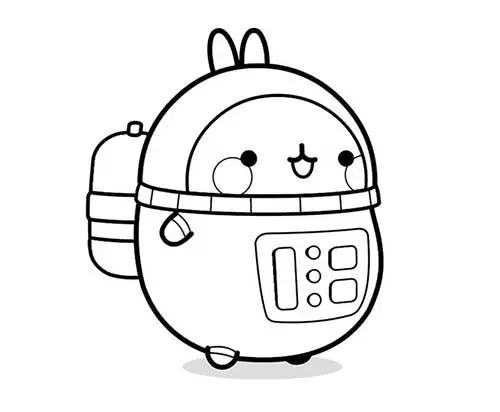 This is one of the coolest Molang coloring pages that I've seen – Molang dressed up as an astronaut. Now, I don't think that I've seen an episode with this costume, but I love it!
7. Molang As A Bee
While I love when Molang and Piu Piu dress up in different costumes, I think this coloring page with Molang as a bee is one of the more boring options that I've seen.
But still, if you've done all the other coloring pages, then this one is a good options for you.
8. Molang Wearing Everything From His Luggage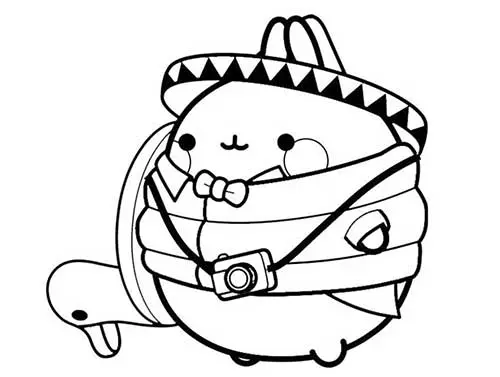 Remember the episode where Molang, Piu Piu, and their friends go to the airport with all their luggage but are told that it's too heavy? So, they have to take stuff out of it to put on and that makes the luggage weigh less so that they can get on the plan.
Well, that's the episode that this image is from. That's why you see Molang wearing the sombrero, the camera, the duck pool float, the shirt and bowtie, and the puffy jacket.
9. Motorcycle Molang And Piu Piu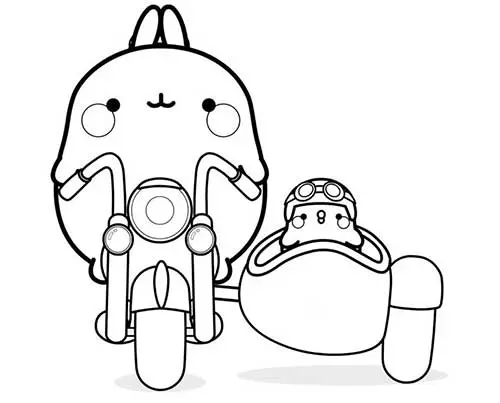 Man, I just love the episodes that have Molang and Piu Piu riding in their motorcycle. How freaking cute is Piu Piu sitting in the sidecar with his little motorcycle helmet on?
This right here is definitely one of the best Molang and Piu Piu coloring pages that I've seen, so far.
10. Piu Piu As A Cat
Let's face it – Piu Piu is usually the cutest when he's dressed up in a little costume. And this cat costume is certainly one of the most adorable ones on Piu Piu.
11. Molang And Piu Piu Ready To Ski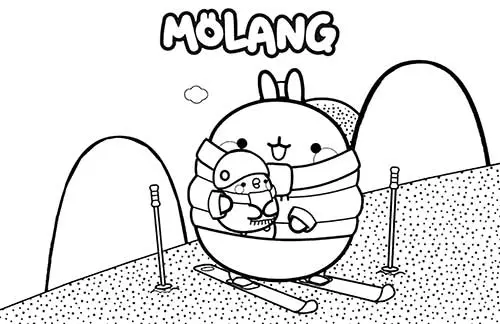 We've seen more than one winter-themed episode where Molang and Piu Piu are on winter holiday and going skiing. So, if you want a winter Molang coloring page, this one is a good option.
I think this one is really cute, but I have to wonder – why doesn't Piu Piu have any skiis?!
12. Desert Motorcycle Molang And Piu Piu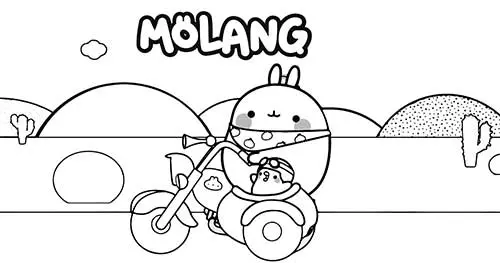 Here's another great coloring page of Molang and Piu Piu on a motorcycle. And yes, Piu Piu is looking adorable in that sidecar again.
This one is a bit different than the other motorcycle page since it has the desert background for you to color. And it looks like it was taken from the episode where Piu Piu gets the bandana like Molang and friends, but a breeze carries it away and they set off chasing it down through the desert.
13. Ballerina Molang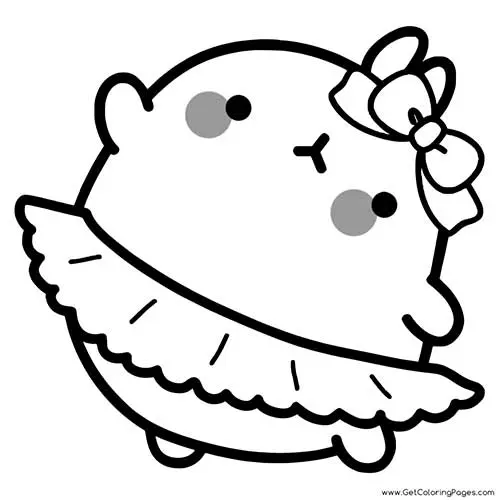 I'm honestly not sure where this one came from because I've never seen an episode of Molang where anyone is dressed up in a ballerina costume.
So, this may just be some art done by a fan. Either way, it should still be fun to color!
14. Snowy Molang And Piu Piu
Here's another fun winter scene. In this one, we have Molang and Piu Piu dressed in their winter scarves.
And they appear to be outside in the snow. Have fun with this one!
15. Molang On A Scooter
This is another one that doesn't seem to be from any episode that I've seen and it might be some fan art.
What we have here is Molang on a scooter wearing a helmet and around his neck is a bandana.He looks like he's really moving on this thing!
16. Ready For Rain Molang And Piu Piu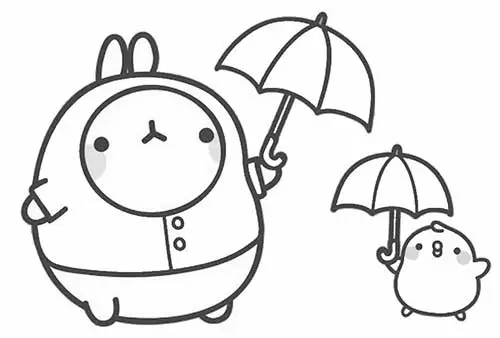 In this one, we have Molang and Piu Piu ready to go out into the rain. Though we've seen these two in the rain in a few episodes, I can't recall any with Molang in this rain coat.
So, this may also be a piece of fan art.
17. Happy Molang And Piu Piu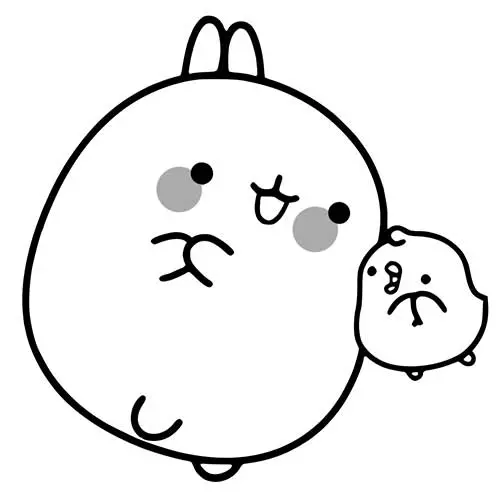 You gotta love this classic image of Molang and Piu Piu looking happy and smiling at each other. As you can tell, Piu Piu is jumping up in the air to be close to Molang.
If you only download one of these coloring pages today, then let it be this classic one.
18. Ready To Party Molang And Piu Piu
Here's another classic look for these two cuties. They look they are ready for that disco ball to come down from the ceiling so that they can party.
Molang is wearing his signature heart-shaped sunglasses. And Piu Piu is holding maracas while wearing a flower lei.
19. Bowtie Dancing Molang And Piu Piu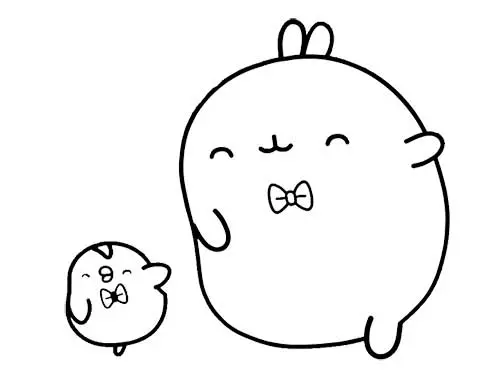 These two cuties just love to dance, don't they? In this picture we see them doing one of their classic dance moves.
And they're wearing their bow ties!
20. Superheroes Molang And Piu Piu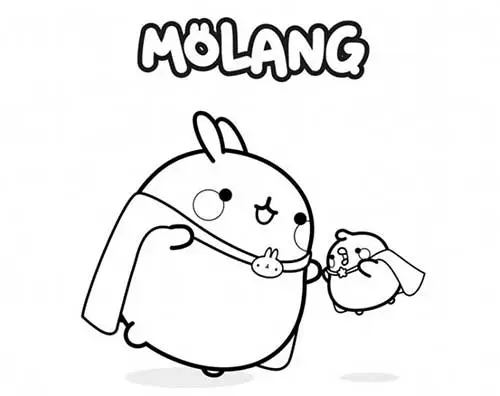 Remember that episode where Molang and Piu Piu are super heroes and go around town saving people from various calamities?
That's the episode that this coloring page is from!
21. Helicopter Pilot Molang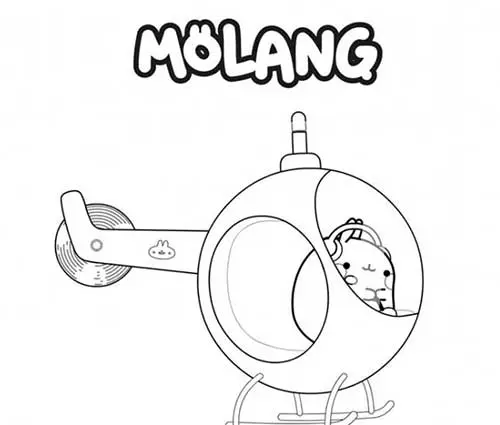 I always wonder how Molang and Piu Piu manage to do so many expensive things when they don't seem to work. And piloting a helicopter is one of those things.
On this coloring page, you get Molang acting as the pilot of a helicopter – probably off to rescue Piu Piu from that mountain top he climbed.
22. Firefighter Molang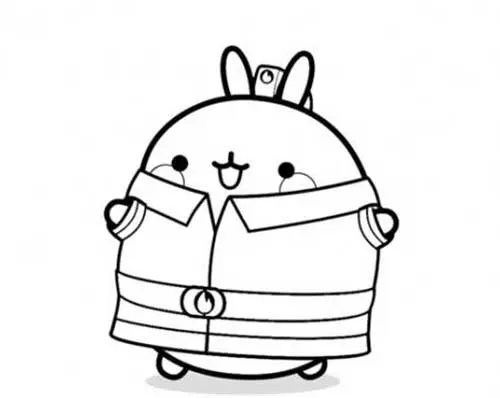 One of my favorite costumes that they dress up in is the episode when they are firefighters on the way to that party.
Though I gotta say, I think Piu Piu is cuter in it. Too bad he's not on this coloring page.
23. Ready For Winter Molang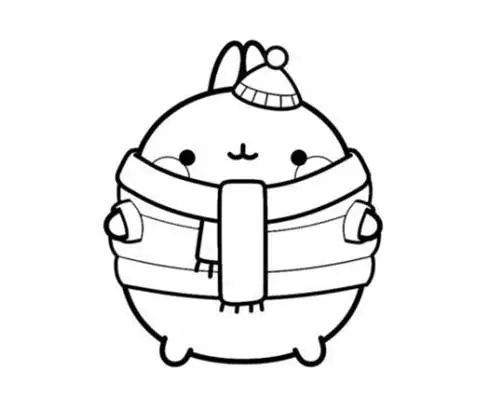 Unlike Piu Piu who goes outside with no winter coat in The Choir episode, Molang is dressed up and ready for the winter cold.
In this coloring page, you get Molang wearing his winter best – a scarf, a hat, and his puffy winter coat.
24. Let's Hula Molang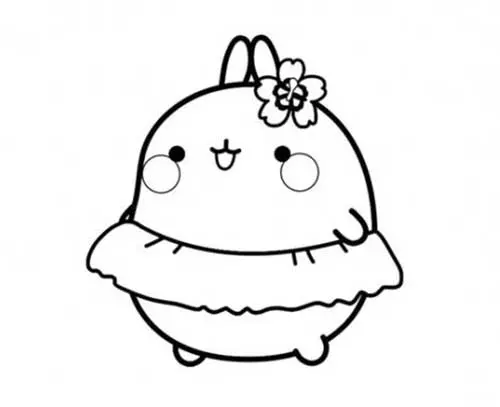 In the episode where Molang and Piu Piu get stranded on the deserted island, they end up making the best of it. And when their friends show up to rescue them, they greet them in island attire – specifically a hula girl outfit.
25. Sorcerer From Molang
If you want something that is a different character from the show, then check out this coloring page of the sorcerer.
This one is from The Sorcerer's House episode where Molang and Piu Piu stumble upon the empty house and go magic crazy while he is away.
26. Ready To Ski Molang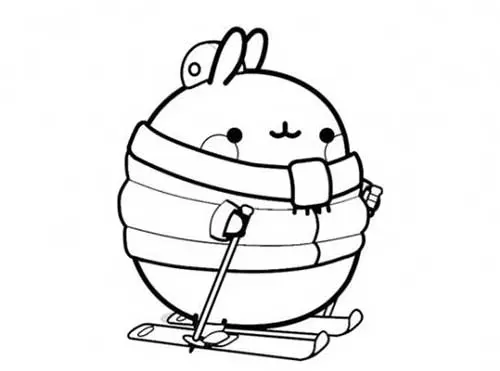 Here's another winter Molang coloring page. And it's pretty similar to some of the others above.
This one is just of Molang on his skiis looking ready to hit the slopes.
27. Vampire Molang
Another one of my favorite looks for Molang is his Halloween scary best – vampire Molang.
Unfortunately, we don't have Piu Piu in his mummy costume in this one. But this is still a great Halloween Molang coloring page.
28. Molang's Nerdy Friend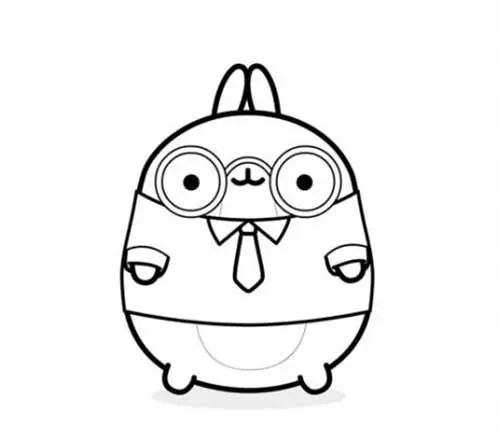 Here we have another coloring page that doesn't have Molang or Piu Piu on it. Instead, it's one of their nerdy friends – the one with glasses.
29. Kangaroo Molang And Piu Piu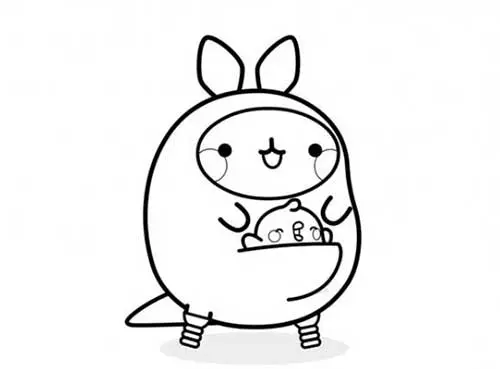 I love this one so freaking much! It's from the episode where Molang and Piu Piu lose their boomerang in the group of kangaroos.
On this coloring page, we have Molang dressed up in costume as a kangaroo and Piu Piu is in his kangaroo pouch looking so happy.
Where to find more Molang coloring pages: