If you're into all things smart home, then you may be the owner of a Samsung SmartThings hub.
It's understandable that you're worried about SmartThings being shut down completely by Samsung.
But don't worry!
Samsung is not shutting down SmartThings! In fact, at CES 2023, they unveiled a new SmartThings Station to make smart homes even more accessible for everyone.
Keep reading to learn more.
2023 Update: SmartThings Station Announced At CES
Not only is Samsung not shutting down SmartThings, they launched a whole new SmartThings Station on January 5, 2023 at the Consumer Electronics Show in Las Vegas.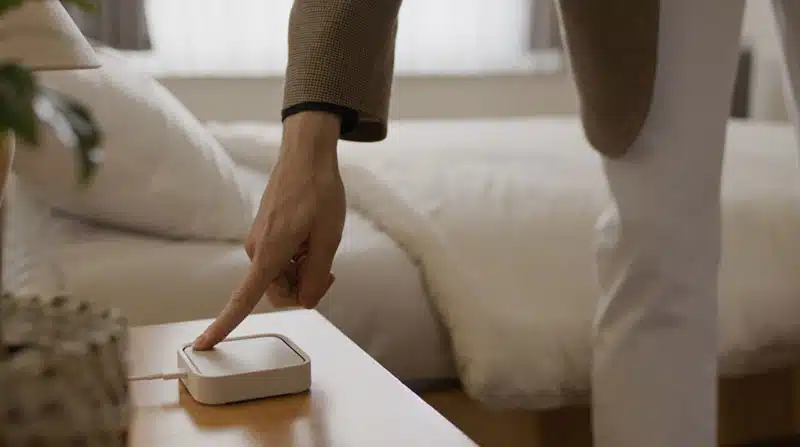 SmartThings Station offers quick setup and compatibility with a range of smart home products, including Matter devices, with the simplicity that users expect from Samsung.
With SmartThings Station, users can automate different aspects of their home environment, setting routines that add convenience to their day and help to reduce energy waste such as switching off lights and appliances easily.
Samsung's SmartThings Station is easy to set up.
When a user powers the device on for the first time, pop-up messages will appear on a user's Samsung Galaxy smartphone to help guide users through the connection process smoothly. 
Users may also choose the option to efficiently onboard devices with a simple scan of a QR code with a smartphone camera.
SmartThings Station is also integrated with Samsung's SmartThings Find, a rapidly growing asset tracking service.
It helps users to find misplaced devices — double pressing the Smart Button can ring your nearby phone, making it easier to find.
SmartThings Station will launch in the U.S. and Korea.
The device will be available in black or white from early February 2023 in the U.S. market.
SAMSUNG SmartThings Station with Power Adapter, 15W Super Fast Wireless Charger, Smart Home Hub,…
YOUR HOME, IN THE PALM OF YOUR HAND: Invite intelligence into your home; Beyond charging your device, SmartThings Station is designed to make your day and night run smoothly with smart features,…
SUPER-FAST WIRELESS CHARGING: With Super Fast Wireless Charging, SmartThings Station will charge your compatible phone in no time**
SIMPLE, INTUITIVE CONNECTION: Start your smart life in a snap; Link your hub through a pop-up on your SmartThings app, then connect your devices seamlessly with QR scanning;*** Preset your devices on…
DON'T WORRY, YOU'LL FIND IT: Peace of mind now comes in a very small box; Tag your devices with SmartThings Find to know where they are, whether inside or outside your home****
REIMAGINE YOUR HOME LIFE: Live each day how you like to by connecting your devices, controlling them remotely and personalizing each room and device to run at its full potential; SmartThings Station…
Last update on 2023-09-26 / Affiliate disclosure / Images from Amazon Product Advertising API / Valid prices are those listed on Amazon.com
SAMSUNG SmartThings Station w/o TA, Black
Peace of mind by helping your routine
Expand Smart home experience to Samsung TV/Home appliances
True Easy Connect Home Hub
Smart Button and Execution
Super Fast Wireless Charging with Cooling Fan
Last update on 2023-09-26 / Affiliate disclosure / Images from Amazon Product Advertising API / Valid prices are those listed on Amazon.com
What Is Samsung SmartThings?
As one of the more popular smart home hubs, SmartThings supports not just Wi-Fi but also Zigbee and Z-Wave.
And with Samsung's recent implementation of Matter, the future is bright for this central hub of communication.
The SmartThings hub comes in two forms, the reliable v2 and the cutting-edge v3.
The v1 has been discontinued, but the v2 is still available with a wired ethernet connection and a battery backup compartment for those unexpected power outages.
On the other hand, the v3 offers the option of either an ethernet or wireless connection, making it even more versatile. However, it does not have a battery backup option.
With the SmartThings app, available for both Android and iOS devices, you can effortlessly manage all of your smart home devices from one central location.
Whether it's your Samsung phone or not, simply download the app from the Play Store or App Store and you're good to go.
And if you're using a Samsung phone, the SmartThings app is pre-installed and serves as the hub for all your Bluetooth device connections.
What Still Works With Samsung SmartThings?
Though some stuff has been deprecated, there are still a lot of devices and brands that still work with SmartThings.
Some of those include:
Ring
Honeywell
LIFX
Alexa
Nanoleaf
There are also Samsung refrigerators and other appliances that come with SmartThings installed.
Even recent to market Samsung TVs has SmartThings equipped right out of the box.
So, Is Samsung SmartThings Really Dead?
No, the reports of the death of Samsung SmartThings were false.
Yes, some things were deprecated, but Samsung is still committed to SmartThings.
The proof of that is the 2023 announcement of the new SmartThings Station at the Consumer Electronics Show.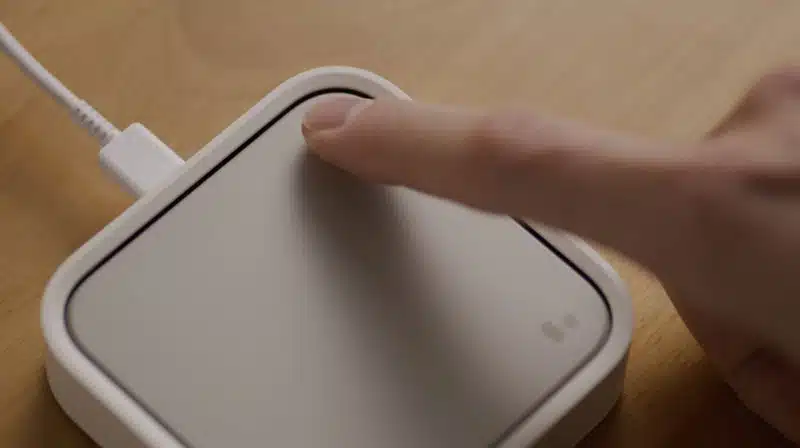 Of course, no one would blame you if you are hesitant to try out the new SmartThings Station once it is widely available.
So, let's look at some alternatives to Samsung SmartThings for you.
Samsung SmartThings Alternatives
If you're having trouble finding a SmartThings hub in stock to buy, or if you just prefer to go with an alternative, then we can help you out.
Amazon Echo
This is a popular smart home hub that's a great alternative to SmartThings that is sold by Amazon
Echo (4th Gen) | With premium sound, smart home hub, and Alexa | Charcoal
PREMIUM SOUND – Rich, detailed sound that automatically adapts to any room. Supports lossless HD audio available on select streaming services such as Amazon Music HD.
VOICE CONTROL YOUR MUSIC – Stream songs from Amazon Music, Apple Music, Spotify, SiriusXM, and more. HD requires a compatible music streaming service.
SMART HOME HUB – Built-in hub to voice control compatible lights, locks, and sensors. Easily set up compatible Zigbee and Matter devices or select Ring Smart Lighting solar lights and bulbs.
ALEXA IS READY TO HELP – Set timers, reminders, and alarms. Alexa answers questions like "Alexa, what time is it?"
START YOUR ROUTINES WITH MOTION – Turn on compatible lights, play your Flash Briefing, or turn on the coffee maker when you walk into the room.
Last update on 2023-09-26 / Affiliate disclosure / Images from Amazon Product Advertising API / Valid prices are those listed on Amazon.com
The benefit of the Amazon Echo is that it is also compatible lights, locks, and sensors, like the SmartThings hub.
Easily set up compatible Zigbee and Matter devices or select Ring Smart Lighting solar lights and bulbs.
If you're not a fan of Amazon products, then you've got a similar option from Google with the Google Nest Hub.
Nest Hub is the one place to control your smart home – it works with thousands of compatible devices.
Turn on the lights, lock the doors, or turn up the thermostat with a tap.
Or ask Google and get help even faster. 
Nest Hub also works with Nest video doorbells and cameras. 
Apple HomeKit
If you're already locked into the Apple ecosystem, then the Apple HomeKit might be the better alternative for you instead of SmartThings.
Of course, in true Apple fashion they are a bit more restrictive in terms of what it actually work with.
So, for most people it's not a good option unless you do already own a bunch of Apple devices.
Final Word
As you can see, Samsung SmartThings is definitely not dead.
In fact, for 2023 they have announced the new SmartThings Station, showing their commitment to making smart home devices for every home.
But if you don't want to stick with the new Samsung SmartThings Station, there are some decent alternatives out there for you.