So, you're a big fan of Steven Universe and want to cosplay as one of the characters. Awesome! Even better that you're interested in doing a Sapphire costume. So, let's get started.
First, just some basic info about all sapphires to remind you of anything that you may have forgotten (good for helping you plan out your costume). Then, we'll share some tips on creating your cosplay outfit as a Sapphire.
Quick Look: Steven Universe Cosplay Costume Items
Last update on 2023-11-30 / Affiliate disclosure / Images from Amazon Product Advertising API / Valid prices are those listed on Amazon.com
About Sapphires 
As you may know, Sapphires are some of the Crystal Gems in Steven Universe and they have the power of future vision. That's why there's that single Cyclops-style eye under those blue bangs.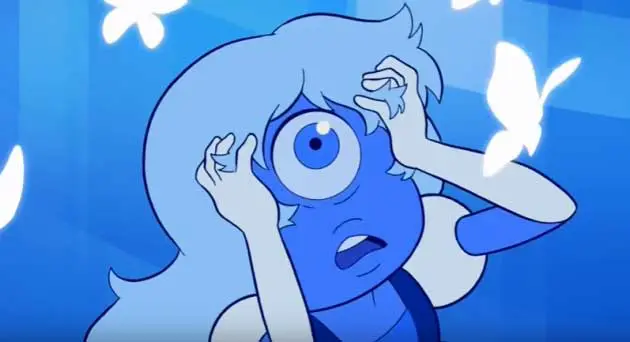 Sapphires also have the power of cryokinesis, which means that sapphires can lower the surrounding temperature by a drastic amount (often causing ice to form).
But my favorite thing about sapphires is that the sapphire that we see as a main cast member is actually married to a ruby and they fuse together to create the Crystal Gem Garnet.
How To Create The Look Of Sapphire From Steven Universe
Now let's get started on getting that cosplay costume for you! There are a few basic components that you need to create this look.
Those are:
blue wig (long hair)
white gloves that go up to your elbows
blue face paint for exposed skin
blue dress
In the show, the dress that Sapphire wears is floor length, so we don't really see her shoes or if she's wearing tights or anything like that. So, if you can't find a dress the proper length, then we suggest sticking with the blue and white color scheme.
How To Dress Like Sapphire from Steven Universe (What & Where To Buy)
Now that you know what you're looking for to get this look together, let us give you some tips on the pieces that you can buy to complete it.
Luckily, Amazon carries most of the things that you need to create your own Sapphire costume.
Last update on 2023-11-30 / Affiliate disclosure / Images from Amazon Product Advertising API / Valid prices are those listed on Amazon.com
1. Sky Blue Wig
Probably the most distinguishing piece of your cosplay outfit is the hair. Not only do you need a blue long-haired wig, but it needs to be a light blue color.
This sky blue wig from Amazon is the perfect choice for achieving Sapphire's signature locks.
Keep in mind that the reason that this wig is perfect for your costume is because the bangs are supposed to be long and covering your forehead and eyes – remember, Sapphire's only eye is covered by her bangs.
2. Blue Face Paint
For your face, and any other exposed skin, you will need to use some body paint give yourself blue skin just like a Sapphire.
You can use any blue face paint, but we're fans of this brand that you can buy online from Amazon.
You may also want to get some white and black face paint, if you want to paint on that big single eye under your blue bangs.
3. Long White Gloves
Sapphire always has long white gloves on. These need to be the ones that go up to your elbows, like the ones below that we found on Amazon.
If you don't like these, then you can look for bridal gloves or formal dress gloves to get the proper length.
These are a one size fits all sort of thing, so they should be fine for most people.
4. Puffy Sleeve Blouse
In order to create the proper look for your Sapphire cosplay dress, you need something with puffy sleeves. The blouse below is a good choice.
You will be wearing this under another top to better create the look of Sapphire.
If you prefer something else, then remember to go with a form fitted option since you'll need to put another top over it.
5. Blue Cow Neck Over Top
Once you get the puffy sleeve top on, you will need to put this one over it. Or, get yourself another similar top for this part of the costume.
This top is used to create the darker blue sides that you see on the left and right sides of Sapphire's upper body.
There may be better options out there for you, but we suggest that you consider this one.
6. Blue Fabric Dye
Do you see that lighter blue fabric that goes down the middle of Sapphire's dress? Well, you're gonna need to create that piece and fabric dye is the easiest way.
This brand is available at Amazon and is an option for you to consider. Of course, there there plenty of other brands you can use as well.
Just be sure to experiment with other fabric first in case it ruins your cosplay outfit.
7. Blue Sapphire Self Adhesive Round Jewels
No Sapphire cosplay is complete with the gems that this character is named for! That's where this products comes into play and helps you complete your cosplay outfit.
Of course, you won't need all of the adhesives that come in this pack, but you'll have leftovers for future cosplay.
You may also want to carry a few extra of these when you're cosplaying since they are supposed to go on your palms, just like the Steven Universe character.
8. Flowing Blue Skirt
To finish off your cosplay dress for Sapphire, you'll need a long, flowing blue skirt. Of course, there are a few options out there, be we like the one below that you can get on Amazon.
We also like how cheap this skirt is, which makes it an inexpensive piece of your cosplay costume.
With this, you should have pretty much everything that you need to put together your cosplay outfit for Sapphire from the Cartoon Network show Steven Universe.
9. EChunchan Steven Universe Sapphire Princess Dress Cosplay Costume
If you prefer to take the easy route here, you can just buy a dress designed specifically for cosplaying this character.
You can buy this Sapphire Steven Universe costume dress online at Amazon.
One thing to note is that this is clearly the less unique way to do your cosplay costume and it leaves little room for customizing it. And you will still need the gloves, face paint, and wig to wear with this one.
Steven Universe Sapphire Cosplay Tips
Now that you know how to put together your Sapphire costume, there are still a few other things to consider.
First, if you are cosplaying with a friend then it's a good idea to see if that person will cosplay as a Ruby.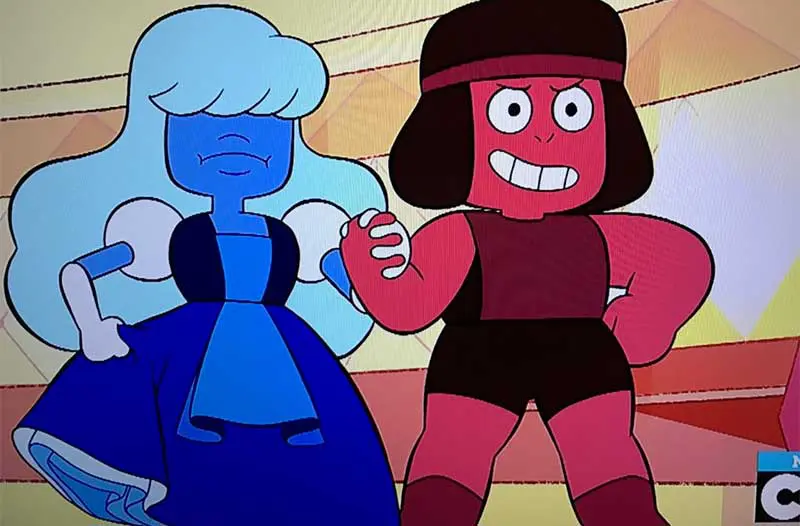 Of course, you don't have to go with a Ruby but it is canon.
You may also want to consider doing a variation on the traditional Steven Universe Sapphire cosplay look.
Instead of the traditional blue dress, you opt to cosplay as Sapphire during her wedding to Ruby. This version of Sapphire requires a tux instead of the dress.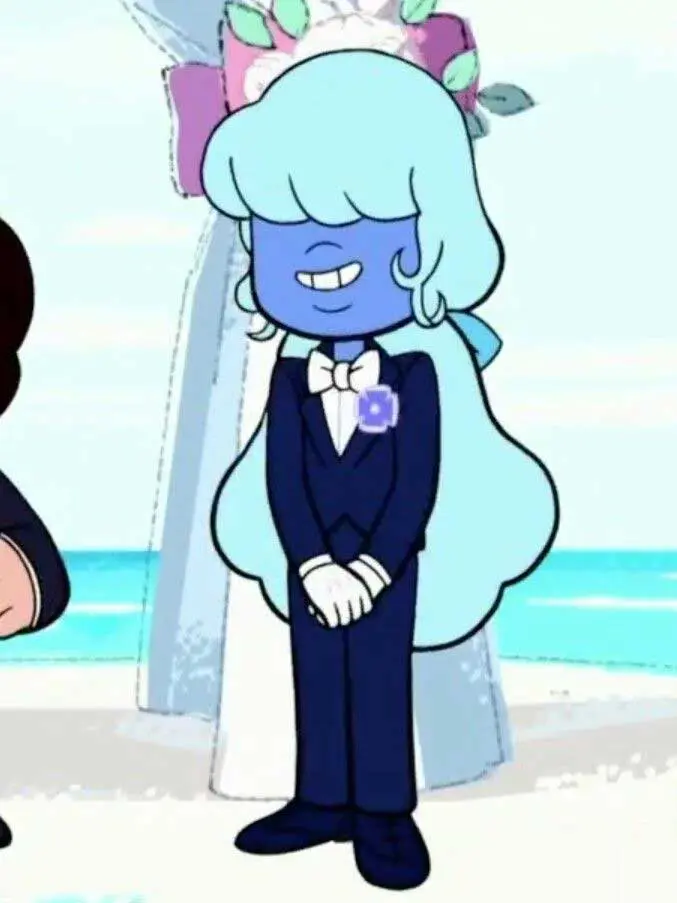 For this one, just be sure that you don't forget the sapphire gems on your palms. And you can complete this one by cosplaying with someone else who is Steven Universe in his wedding tux or  Ruby in her wedding attire.