If you're into caving or underground subterranean exploring, then you may be wondering which U.S. state offers up the most caves for you to explore.
While some states have famous caves, like Wind Cave in South Dakota and Mammoth Cave in Kentucky, that's not where you'll find the most caves.
In fact, Tennessee is the state with the most caves.
Having grown up in Tennessee myself, I find this a very surprising fact.
Let's dig into this a bit more and see how Tennessee clinches this title.
How Many Caves Does Tennessee Have?
Would it surprise you to learn that Tennessee is home to more than 10,000 caves across the state?
At the latest Tennessee Cave Survey meeting (Sept. 2018) it was announced that about 170 new (previously unknown) caves for the year had been added to the database.
This means that three new caves are being turned in each and every week – on average.
This brought the total known caves (within the state) to now total over 10,590.
Tennessee also has the world's only impact cave.
An impact cave is a cave created after an asteroid decided to slam its face into Tennessee some 200 million years ago.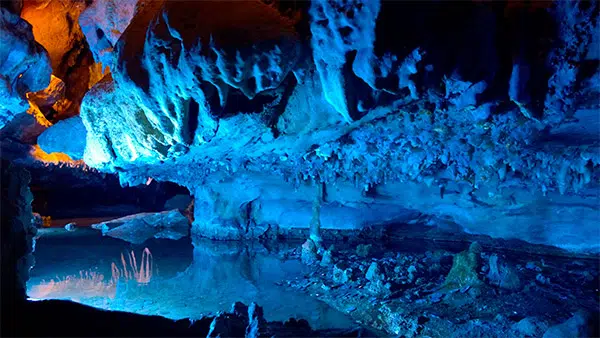 Popular Caves In Tennessee
While Tennessee is mostly known for country music, growing up in the state you always heard tales of the famous Bell Witch Cave around Halloween.
I actually grew up only about a 30-minute drive from the Bell Witch cave, but I've never been to it.
Though I have driven by it.
The Bell Witch Cave is on private property, so you cannot just show up and go spelunking. However, the owners do offer tours in the warmer months of the year.
The majority of the caves in the state are located in eastern Tennessee, near the Appalachian range.
But that doesn't mean that caving enthusiasts should plan a trip because many of the caves in the Volunteer State are on private property and inaccessible to the general public.
Probably the most popular of the caves that are open to the public are The Cumberland Caverns.
At Cumberland Caverns you'll find almost 30 miles of caves and underground passageways that you an explore.
This cave system does offer daily walking tours as well as overnight adventures for the more adventurous.
At Raccoon Mountain Caves vistors are also welcome to explore the caves.
Visitors to Raccoon Mountain Caves can choose between a 45-minute guided walking tour of Crystal Caverns, or a "muddy" tour of Wild Cave. (The latter requires helmets, pads and gloves; so not for beginners.)
One of the cooler cave experiences that is open to the public is The Lost Sea.
Here visitors can experience the largest underground lake in the US.
The guided tour begins with a 3/4 mile walk along sloping paths, down to the lake itself.
Then visitors board a glass-bottom boat to explore a bit of the lake, though not the entire 13 acres.
In Chattanooga, you'll find the popular tourist attraction Ruby Falls, which is the tallest and deepest underground waterfall open to the public in the United States.
You have to do a long cave walk to actually reach Ruby Falls.
The Cave Walk to Ruby Falls lasts on average 1 hour – 1 hour 20 minutes, depending on date and time of visit.
Ruby Falls also offers guided tours, special lantern tours and guided gentle walking tours of the cave located 1120 feet below the summit of Lookout Mountain.
Tennessee is also home to nine grottos that you may want to explore with your caving buddies.
What Is TAG?
If you're into caving, or just now getting into it, then you'll likely hear other spelunkers referring to the TAG area.
TAG stands for Tennessee-Alabama-Georgia.
Here's what that means for the caving community:
These three states compose the southern end of a belt of limestone laid down hundreds of millions of years ago when the region was covered by an ancient sea. Where there's limestone there are bound to be caves, because limestone is susceptible to corrosion by slightly acidic water. Over millions of years this slow dissolution has riddled the bedrock with tunnels and chambers, creating a subterranean world in which the potential for exploration is almost limitless. There are more than 14,000 known caves in TAG—9,200 in Tennessee, 4,800 in Alabama, and 600 in Georgia—and there is a subculture of single-minded cavers eager to probe them all.

NatGeo
Final Word
Though many people assume that Missouri is the caves capital of the United States, that is certainly not true.
Tennessee is the state with the most caves, with more than 10,000 known caves in the state.