Nothing sucks quite as hard as when you're streaming something or trying to surf the web and your Xfinity high speed internet decides to crap out and leave you hanging.
If you've gotten up to check on your model and notice that the orange light on your Xfinity router is blinking, then you're in the right place to get that fixed real quick.
Often, just power cycling your router stops that blinky orange light and gets your Xfinity internet working again.
But if that doesn't work, we've got other troubleshooting steps to help you out.
Below we'll explore the reasons why your XFINITY router is blinking orange and show you how to fix it.
What That Blinking Orange Light Means
You likely have already got this one figured out, but when your Xfinity router has a blinking orange light that tells you zero internet connection is detected by that router.
This could be due to things like an outage in the area or just your router needing a reboot.
Let's go through the possible scenarios and fixed now.
Fix #1: Check For An Outage
Sometimes, you lose your Xfinity internet connection because there is an outage in your area.
So, try checking your Xfinity account (if you have a connection via your phone) or using the Comcast Xfinity app with your phone's data connection to check for an outage.
Alternatively, you can call them up to check for an outage.
I also like to run a search on Twitter and look at the latest tweets to see if anyone in my area is reporting an outage.
If there is an outage, then the only thing you can do is wait for the internet to get back up and running again.
Fix #2: Wait It Out For A Bit
Sometimes the internet company sends out a firmware or software update to the router and that kicks it offline and causes the blinking orange light.
Since this may be what's going on, you want to try to give it a little time to finish updating in and installing.
Cause you if you power cycle the modem while it is updating, then you could cause even more problems for yourself!
I like to give it 10 to 15 minutes before I move on to the next step.
Fix #3: Power Cycle Your Router
Yup, you might just need to turn it off and then on again.
This means turning off your router and unplugging it from the power source for at least 30 seconds, and then plugging it back in and turning it back on.
This simple step can often resolve issues with the router and restore internet connectivity.
And be sure to check that all cables connected to the router/modem are securely in place.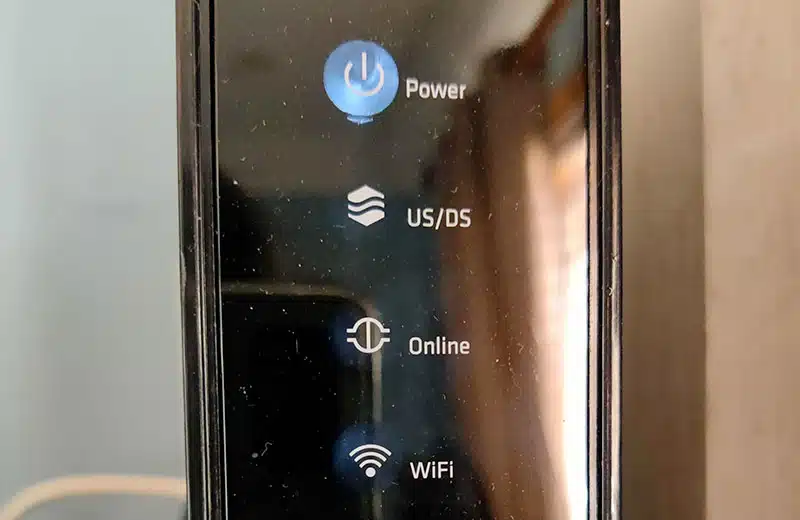 Fix #4: Update the Router Firmware
It's possible that your router needs a firmware update that didn't arrive like it was supposed to over the internet.
An outdated router firmware can cause issues with internet connectivity, including a blinking orange light on your XFINITY router.
To fix this, go to the XFINITY support website and check if there are any firmware updates available for your router.
If there is, just follow the instructions to download and install the update.
Fix #5: Disable the Router's Firewall
Sometimes the router's firewall can cause issues with internet connectivity, leading to a blinking orange light.
To fix this, you just gotta access your router's settings by entering the IP address into your web browser.
From there, navigate to the firewall settings and turn it off.
Wait a few minutes, then turn the firewall back on and see if the orange light is still blinking.
Fix #6: Try Ethernet To See If The Router Is The Problem
Sometimes, the router or modem that you're using is faulty and it breaks causing the blinking orange light.
When this happens, the internet connection is technically still there but you cannot access it via wifi signal.
To test if this is the case, plug an ethernet cable into the router and connect the other end to a laptop or computer and test if you have an internet connection.
If you do, then it's time to get a replacement router so that you can get back to a wifi connection at home.
Sale
Motorola MB7621 Cable Modem | Pairs with Any WiFi Router | Approved by Comcast Xfinity, Cox, and…
Model MB7621 is recommended for actual cable Internet service speeds up to 650 Mbps. Wirecutter rates this "the best modem for most people." A Full-Band Capture Digital Tuner ensures faster, more…
This cable modem's 1 Gigabit Ethernet port connects to a WiFi router, computer, HDTV, game station, or streaming video device. Great for use with Whole Home WiFi or Mesh networks like eero, Google…
Requires cable Internet service.Approved by and for use with Comcast Xfinity and Xfinity X1, Cox, Charter Spectrum, Time Warner Cable, BrightHouse, CableOne, SuddenLink, RCN, and other cable service…
Setup is fast and easy using the quick start guide.
Attractive, compact design minimizes shelf space, improves cooling, and extends product life while looking great in any home or office. A 2-year warranty plus rugged lightning and power surge circuits…
Last update on 2023-11-30 / Affiliate disclosure / Images from Amazon Product Advertising API / Valid prices are those listed on Amazon.com
Final Word
With these easy steps, you can solve the mystery of the blinking orange light on your XFINITY router and get back to your online activities.
Whether it's streaming your favorite shows, playing online games, or just browsing the web, a functioning router is essential to our connected lives.
So power up, connect those cables, and update that firmware – it's time to experience the internet the way it was meant to be experienced!