We've got one amazing line up of Minecraft gifts for kids. This is your one stop where you'll find that perfect gift for a very special kid that loves Minecraft. We're going to cover a lot of different options for you so to help guide you to the right spot make sure to use the table of contents just below.
Where better to find which Minecraft gift is best other than from our leading Minecraft community. We're a leader in the modded Minecraft world with thousands of players on our servers, but that's enough of tutting our own horn. Lets get to what you're here for, some very amazing Minecraft gifts we found at Amazon.
5 Great Minecraft Gifts for Kids (Our Favorites)
We're going to start with 5 very great picks (plus one bonus item!) that will make any Minecraft loving kid ecstatic! Our 6 picks aren't broken down by price or anything similar. These are the gifts we just love the most and know will make a super great gift.
This is a great gift for a kid that's a combination book and Minecraft lover. The book is full of tips & tricks that a lot of Minecrafters don't know. It'll make the kid exceedingly happy to be showing these cool things with their friends.
Filled to the rim with 90 pages of beautiful content. Colorful and creative imagery that will guide your little Minecraft friend into hours and hours of fun. Don't worry about the book being boring. With pictures on every single page & quick and easy to read details it will make a great gift.
Lego and Minecraft go hand in hand. If you don't know much about Minecraft it's a game where you can build anything you want block by block. It's very similar to Lego itself so it's a no-brainer that any Minecraft lover will also enjoy a Lego experience. Especially one designed in the world of Minecraft.
This particular Lego kit will let the kid build in a very game familiar setting. The adventure of traveling caves is one we all enjoy in game and now anyone can experience this with these building blocks. Complete with characters from Minecraft such as Steve, Zombies, and Spiders inside a exploration cave.
I haven't met a Minecraft gamer yet that did not like the mystery boxes. Even the more mature crowd of players that love this game really like these collectibles. If you're one of them then you know exactly what I'm talking about. It's just something about owning a piece of a game that you get so much enjoyment out of.
The collectibles are very affordable, only costing a couple bucks, so you can get a couple of these to really up the impact of your gift. The figure you get is random, hints "mystery box", but that's usually not a problem. However they are typically better suited as an additional gift or add-on.
I personally really like the creeper necklace. It's a great choice for both boys and girls. The necklace displays the creeper face which is one of the monsters inside the game.
The creeper itself has become one of the symbolism's of Minecraft. It just makes such a great Minecraft gift for kids. The chain looks more feminine in the picture, but owning one of these myself, once you get it in person it's a that chain suitable for either sex. So, it's a great unisex Minecraft jewelry item.
A light up redstone ore desk light, night light, or just pure decorative lighting. This is such a cool gift! I'm actually ordering one of these for myself after I finish writing this post.
The redstone ore is a resource in the Minecraft game. It's essentially the electricity in the game world. It lets you control things from a distance and make very creative contraptions. The most amazing things done in the game are done with redstone. As such, this makes for one remarkable Minecraft gift.
This is a very large Lego Minecraft set. With over 500 pieces and multiple combinations of building creations you're sure to know it's an awesome gift.
This set is a little more advanced than some of the others. Mostly because of the complexity of the build and the amount of pieces involved. However if your Minecrafter is a little older this will make one heck of a gift.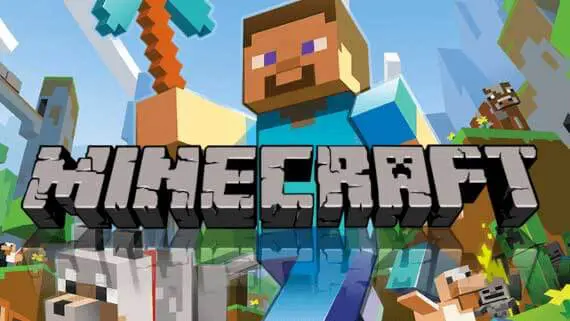 If you're on a budget we got you covered. We've broken down some really great minecraft gifts for kids into categories of under $50, $25, and $10. Turns out you can get some really great Minecraft gifts in all price ranges. Just keep in mind that product prices change all the time, so the price you see at Amazon (or other retailers) is the current and valid price.
The Best Minecraft Gifts Under $50
The gameband for Minecraft has to be one of the coolest things for Minecraft on the market. It allows you to take Minecraft and all your creations anywhere with you. It's a bracelet USB that holds the entire game and everything with it so you can simply plug and play on any computer!
It keeps your worlds, mods, and everything together for when you want to play. The bracelet can easily be designed to display different things in its LED lighting. You can display the time for a watch, your Minecraft name, or make it say Happy Birthday before you give it as a gift.

2019 update: this item has been discontinued, but you can still buy it from third-party sellers at Amazon (prices vary)
These light up Minecraft gifts are rather epic. The torch lights the way when you walk around just like the torches in game. You can also buy a light up diamond ore which is the most sought after ore in the entire game!
Light up toys always make a great option for a kids gift. There's always this human fascination with lights and combining that fascination with Minecraft is just one genius idea. Also this barely breaks our Under $25 category so it's very affordable.
The bow and arrow in Minecraft is arguably the best weapon. It's a kids favorite and rightfully so. The bow and arrow has saved the Minecraft player many many times from certain death.
This bow and arrow is pixelated perfectly to look just like the bow and arrow in game. It eve fires up to 20ft! What a very cool gift. What kid wouldn't love shooting a replica of their favorite Minecraft weapon in real life.
The Creeper hoodie is a sure what to make a kid popular among his other Minecraft friends. The hoodie zips up to make you look like the creeper in Minecraft.
This hoodie looks great zipped to look like a creeper and unzipped. The patterned designed matches a creeper in game and looks great. Definitely a classic look for any Minecrafter.
Note: Price varies depending on size, and some variations are over $50.
Great Minecraft Gifts Under $25
What better thing to get a Minecraft fan than the actual game if they don't already have it on this platform. Surprisingly a lot of gamer's don't have the game on both PC and Xbox One. If your Minecraft friend doesn't consider getting them a copy since it's fairly cheap.
This will let you play Minecraft for Xbox One. Clicking the link above will let you swap between other consoles if you don't have an Xbox One. Also it's great to have a hard copy of the game versus a digital download. The tangible aspect is great because a lot of Minecraft players enjoy collecting.
Note: to get this game under $25, buy it used because the new price typically exceeds it (check Amazon for current valid price)
The figure collector case is a great option to pair with the mystery box we showed in the first 5 gifts. Since the figures are very cheap this case pairs well and provided the perfect storage for the collector.
The case helps prevent losing the Minecraft figures by giving them their own storage unit inside the case. Each figure has it's own space and the case itself locks shut to keep them safe. It just makes since for Minecraft gifts for kids.
The Minecraft card game is one of a kind. It's a unique game designed with actual Minecraft gameplay aspects in mind!
Players gather resources, craft, mine, and blow things up like in the game. The more they craft the more points they get and the winner is the one who reaches the point limit first. Lots of fun to be had here and it'll help anyone new to Minecraft learn how to craft certain items. Even better… it makes for great bonding time between parent and child.
Is the kid your buying a gift for into both action figures and Minecraft? Well you've just found a great gift for them. This pack comes with Steve the main character as an action figure along with other things you'll find in the game.
Includes a sword, pickaxe, crafting table, bed, and chest. It's the complete survival action figure pack for the avid Minecraft player. This set is part of a series as well. So if you're feeling generous you could even grab some of the preceding sets.
Is the kid you're buying a gift for around the age where they start carrying a wallet? Typically around age 15? This creeper wallet is a sure winner! Combine this gift with a couple bucks and that kid is going to go crazy for it.
The wallet is 4″ x 3.5″, 100% leather bi-fold by Jinx. If you know Jinx then you know quality gamer apparel. This wallet will last a long time and just make a really great gift.
Minecraft story mode is completely different from the actual Minecraft game itself. You won't have to worry about getting a gift someone already might have.
The story mode plays out scenarios where the player gets to choose the actions. By choosing different actions the game unfolds differently and therefor can be replayed with different results. A really great gift and one of my favorite on our list of Minecraft gifts for kids.
A really epic looking 3D style wall sticker. It's easy peel and easy stick so don't worry about it being difficult or messing up the walls.
Makes for great bedroom decoration and even makes the room look bigger with the 3D effect. I don't know what kid wouldn't want this bad boy in their room. It just makes for such a cool gift and such a cool bed room.
A foam version of the sword and pickaxe from the Minecraft game. These tools are used on a very regular basis in game and are the most common thing you'll have during your adventures. Without these Minecraft just wouldn't be Minecraft.
These are sturdy foam replicas which make for great imagination adventures. All kids love to sword fight and play in that manor. Now it's possible to do it in style with the kids sword from their favorite game.
Throw this on your head and now you're Steve the main character in the game. What kid doesn't want to be their favorite video game character? Now they can!
This is placed over the head and comes with open eye slots so they can see. Combine this with a blue T-Shirt and you essentially have the complete "Steve Kit". Throw in the foam sword and pickaxe and now the birthday kid is in style!
You now can have every element or resource from Minecraft right at your disposal. These come in 1″ inch blocks and include everything from cobblestone to diamonds & bedrock.
These blocks are made in scale with the Minecraft Stop-Motion Animation Studio to work hand in hand. These combined would be the ultimate Minecraft gifts for kids.
Please note that the MSRP of this item is above $25, but prices vary and it may be under $25 when you're ready to buy it. The valid price is the current one that you see listed at Amazon.
Taking the mystery out of mystery boxes. You'll know exactly what you're getting with these 3 figures. Another cool thing it's actually a little cheaper than buying one single mystery box.
Buy the figures directly with no mystery to insure you're getting different ones. Not only that, but you're saving money. This is the perfect gift to pair with the figure collectors carrying case I showed above. Clicking the link will take you where you can actually see even more figures. Such a cool collectors item for Minecraft lovers.
Amazing Minecraft Gifts Under $10
Now these are some epic Minecraft sunglasses! These come in the classic creeper green pattern, but they also have blue available. Also comes with carrying case.
Minecraft sunglasses are the perfect pair of shades on a sunny day for a Minecraft lover. Out of many of the gifts you see here these sunglasses are definitely unique and probably something the kid doesn't already have. If you're like me that's the hardest thing.. finding something they don't already have.
This action figure is a part of a series. The same series as the other action figure I show above. Might consider getting both?
Action figures are always a great gift for kids. They love playing with them imagining going on a crazy adventure. Now when they're not in game they're still able to live out the fun times they had with their new toy.
Please note that the MSRP of this item is above $10, but prices vary and it may be under $10 when you're ready to buy it. The valid price is the current one that you see listed at Amazon.
Does your little Minecraft player like building things in more than just Minecraft? Maybe you're also not a huge fan of Lego? Then papercraft might be a great option for you.
Papercraft is like a Minecraft origami, but a lot easier to put together. This set comes with 30 pieces which makes grass blocks, animals, etc. Great for light decoration in the room and also comes with stickers to match.
Please note that the MSRP of this item is above $10, but prices vary and it may be under $10 when you're ready to buy it. The valid price is the current one that you see listed at Amazon.
Of course we have to include the pocket edition of Minecraft! If your kid already has it on console and PC you might as well get it on a mobile device.
Minecraft PE or Pocket Edition is a great way to keep a kid entertained on the go. They get to have the full Minecraft experience right on a phone or tablet. Pocket edition has also come a long way to where they can now play online with friends on real servers. A top notch gift at an affordable price.
Minecraft Gifts for Girls
A lot of the Minecraft gifts are somewhat unisex or more guided towards boys. There are a couple gifts which might be considered geared towards the girls that like Minecraft. While these still are mostly for either sex we feel girls might be more prone to like these.
Your own personal stuffed… monster? A plush Minecraft Creeper is the perfect friendly version of the teddy bear that makes a great Minecraft gift for a kid.
The plush creeper is 7″ tall and is very soft. Looks exactly like the creeper in game and makes for a great stuffed animal. There's also several other plush animals for the game. There's an ocelot (cat), pig, etc.. makes for a good collector item.
The mighty diamond! The diamond is the most sought after resource in the game. It just makes since to put it on a necklace.
Earlier we showed the creeper necklace which is great for both boys and girls, but I feel the diamond necklace is more geared towards the girls. It's a great necklace by Jinx so you know it's good quality even though the price point is relatively low.
A very cool 3D printed toy of a skinned Minecraft character. Having your very own personal Minecraft figure that stands around 4″ tall would be very cool.
This figure is 3D printed and then wrapped in vinyl. This allows the figure to display a skin which you can find in Minecraft. More of these personalized figures can be found on their main website here. If you choose to go to their website there's a lot of boy & girl options available.
A cute Minecraft bracelet that is designed like the diamond ore in game. On the other side it displays the word "Minecraft" in the correct Minecraft font.
This bracelet is made by Jinx which we've mentioned here a couple times. They make really great gaming apparel! There's different size bracelets available so make sure you're looking at the right one!
Minecraft Party Supplies
Are you not only looking for some great Minecraft gifts, but also throwing the party? Lucky for you there's some great party items to make this the most amazing and memorable birthday party your kid has ever had. He or She will absolutely fall in love with the decorations we've found. Lets take a look…
Minecraft Table Party Supplies
A table cover to give that grass feel from the game. A green tablecloth is really a must have. This one is a 58″ x 108″ cloth for a long table.
The perfect green to set the mood of Minecraft when your visitors come in. Grab a couple for the cake table and gift table to make the party begin to stand out. The great thing about green is it catches the eye quickly and will get everything moving forward.
A 16 person party pack of plates, cups, napkins, and essentials. This party pack is Minecraft pixelated green to match the creepers of the game!
If this set isn't exactly what you're looking for check this one out, Tableware for Minecraft Themed Parties. This second set is for around 8 people but has a drastically different design.
Gifts for the Guests
Includes baggy, classes, bracelets, and a good bit more. Everything is Minecraft related and surely to be loved by all the attending kids.
Its become the norm to give out goody bags for all the guests. These should do fantastically as the door bags. This particular set is for 8 kids and comes with sunglasses for the birthday kid.
Here's another great option for the party bags. Includes stickers & bracelets for 8 kids.
This second option for party bags is another great choice available to you. If you're feeling very generous you could even get both of the above party bag fillers and make for one big door gift for the guests.
Minecraft Party Decorations
It wouldn't be a party without the Minecraft balloons. This set comes with the whole pack of creatures. Creepers, cows, pigs, and much more.
This 24 pack of balloons is one great decoration piece for your kids party. Show the kid these balloons and they're sure to be super excited about having these at their party. Now you just got to find some helium to blow them up!
As you might already know Minecraft has ore which can be processed into ingots. There's iron and gold ingots as base resources in the game. Now they can be at your party!
These gold ingot boxes can be filled with any time of candy or reward for the kids. They're the outer packaging of the ingot so you can do nearly anything creative you can think of with them. It'll add a great aspect for the party and look great piled up next to the cake.
What party is complete without a Pinata? Especially a cool Minecraft pinata shaped after TNT in the game. You'll definitely get to make a big boom when breaking this thing apart!
This TNT will hold lots and lots of candy for your party guests. It's shaped like the TNT in game and the kids will love it. A great little extra gift to get your kid for the party and it adds a lot to the atmosphere and experience for everyone.
Minecraft Cakes & Cupcakes
The be all of Minecraft cake toppers. You're getting a 10pc topper set that will turn your cake into a highly Minecraft game oriented edible piece.
You get a tree, main character Steve, animals, chests, and the biggest smile on the birthday kids face. We've seen a lot of different toppers, but we really really like this set up. I would most definitely give this one a go for my next party.
Going to have cupcakes at your Minecraft party? Top them off with these Minecraft figures and it'll be a special bonus gift for the kids.
This set comes with 24 different cupcake toy toppers. Each one is a different character from in the game that the kids will recognize. Each toy stands around 3″ inches tall so they're close to the figures from the mystery boxes.
Conclusion
So we've put together quite the list for Minecraft Gifts for Kids. I really hope you're able to get something pretty cool for your or a friends little Minecrafter. It's such an amazing game that's going to be around for many many years to come.
Minecraft is in an entirely different league when it comes to games. A wide variety of people and ages can enjoy this game. If you play yourself and on the PC I want to invite you to join our own Minecraft games. You can check them out here and we hope to see you in game soon.